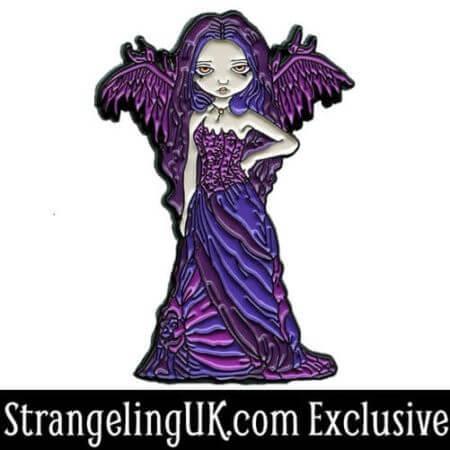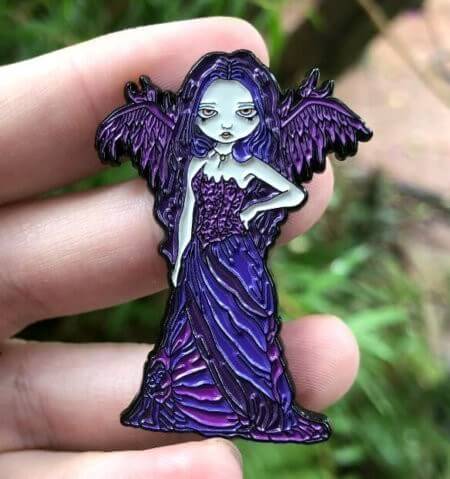 Violet Angel Collectible Enamel Pin
The fourth of my StrangelingUK Exclusives! You can order her online HERE. My friend Paul runs a fabulous website called StrangelingUK.com. He imports a lot of my artwork & merchandise to the UK aimed at my UK collectors, and he also stocks a lot of unique items only found in England – the good news is that he ships WORLDWIDE. He also helps me out whenever I do art shows & events in the UK, and he runs his own booth with my licensed artwork throughout the year at various festivals and conventions in the UK (also trading under the name Rage in Eden). We've decided to do a few StrangelingUK Exclusive Pins, and "Violet Angel" is the fourth! Again, she is exclusive to the StrangelingUK website (and their show events) but you can order her online anywhere in the world HERE.  So whether you live in the US or the UK or anywhere else really, you can buy from Paul at StrangelingUK. "Violet Angel" is based off of my earlier painting of the same name – a sassy goth fairy in shades of violet with a marvelous dress!
Strangeling pins are metal & enamel collectible pins – each is designed by me (Jasmine) personally.  I hand select the enamels and put a lot of love & thought into each design.  Each pin has two "locking" backs to ensure the safety & security of your pins (so you don't lose them!).  Your pin will come packaged with a backing board & sealed plastic bag, sent in a cushioned mailer.  We are always happy to ship worldwide.  We will be adding new designs each month, so stay tuned!  For questions about our pins or to read more about them, please visit the "Collectible Enamel Pins" section of our FAQ here!.  If you are interested in collecting more Strangeling pins, getting discounts, free pins, sneak previews & exclusive rare designs – definitely consider the Patreon Pin Collector tier on my Patreon page here.
Additional Details
EDITION: OPEN EDITION
AVAILABILITY: STRANGELINGUK.COM EXCLUSIVE
RELEASE: April 2019
Size: 1.75″ high * 4.3cm
Price: £9.99