Death and the Maiden: Ars Longa Vita Brevis
Death & the Maiden: Ars Longa Vita Brevis is the debut painting in the Death & the Maiden® collaborative series by Jasmine Becket-Griffith and David Van Gough.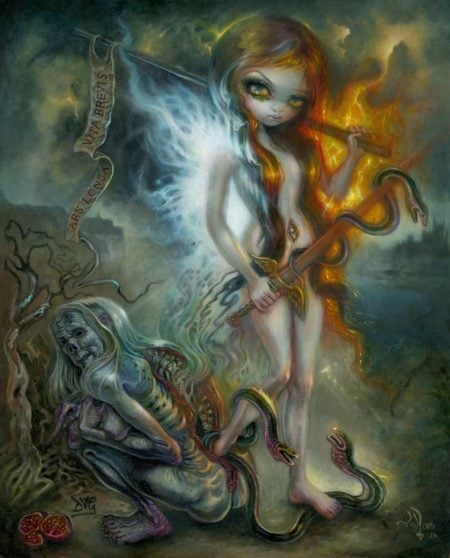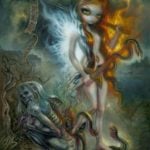 Death and the Maiden: Ars Longa Vita Brevis
$25.00 – $295.00
Death & the Maiden: Ars Longa Vita Brevis is the first release from the Death & the Maiden® collection, a collaboration between artists Jasmine Becket-Griffith and David Van Gough. This original acrylic painting debuted and sold as part of the Aestheta exhibit at the Dark Art Emporium in Long Beach, California and is now available as fine art reproductions to collectors worldwide. "Ars Longa Vita Brevis" = "Art is Long, Life is Short."   The catalyst for this new collection begins a darkly whimsical narrative that will explore the journey of Death & the Maiden through the Underworld, and into worlds beyond — an epic and inevitable tale manifested by David & Jasmine.
Details
Available Product Types
Additional Details
Glossy Photo Prints
All Glossy Photo Prints are printed on a glossy photo paper with archival inks. A 1/2″ white border is included around the printed area of the artwork. When you select the print size and type that you want to purchase, the Printed Area Dimensions will appear below your selection. Please note the dimensions to make sure that the print you select is a size that will work for your needs. We cannot provide custom print sizes at this time. What you see offered is what is available.
Open Edition Canvas Prints
These prints are made on canvas with archival inks and varnished with a UV resistant finish. They are gallery-wrap style — wrapped on boards, stretched over a frame and are shipped ready-to-hang. The canvas sides are printed in black, creating a natural self-framing effect, so you don't have to purchase an additional frame if you don't want to. The entire piece is also painted with a UV varnish and then heat set for maximum protection and longevity. They are truly beautiful pieces and it is often difficult to tell them apart from the originals. The open edition canvases are on deep gallery wrapped boards. The Open Editions are set to a specific size format and there may be some slight cropping around the edges from the original artwork.
Masterpiece Edition Prints
For this series, the Masterpiece Limited Edition Hand-Embellished Canvases will be limited to the number ordered within the 48 hour window of this launch. When the 48 hour window expires on March 22nd at noon PST, these Masterpiece editions will no longer be available. Each Masterpiece Edition will be hand embellished by both Jasmine and David. Please allow 5-6 weeks for delivery. We first have to make the canvas prints, ship them to Jasmine and David to hand-embellish, and they will pack and ship them to you. Depending on how many orders we get for Masterpieces, this could take a little bit of time, so we appreciate your patience.
Shipping
Please allow up to 2 weeks for shipping in the US and 3-4 weeks for international shipping. International shipping times can vary depending on your country's Border Customs practices. NOTE: Some items may ship separately. Learn more about our shipping practices.
Death and the Maiden Sketch Card
$295.00
Death & the Maiden ® Original Sketch Cards by Jasmine Becket-Griffith and David Van Gough. Each is an original drawing, sketch, or study done with pencils, charcoal, ink, or pastels on a piece of archival 2.5″ x 3.5″ illustration board.  These are not prints, but actual originals direct from the artists! Each sketch card is a collaboration of Jasmine and David and they are signed by both artists.
NOTE: You will receive a RANDOM sketch card. They truly are random and we are unable to process any special requests. Please refer to the product photos for examples.
Details
Available Product Types
Additional Details
This line of Sketch Cards is a collaborative effort between Jasmine Becket-Griffith and David Van Gough for the "Death & the Maiden®" series. The debut painting, Ars Longa Vita Brevis, is the first of many to come in this exciting new series of collaborative works. Along the way, Jasmine and David will create additional sketch cards that will be released periodically throughout the course of this series' development. These sketch cards may include preparatory studies for upcoming paintings or studies on certain themes within the series. They are the most affordable and space-saving way to collect an original artwork from either Jasmine or David.
In lieu of names, each Sketch Card will be titled by the series name, year, and sequence, starting with "Death & The Maiden Sketch Card 2022 Series: 1" or "Death & The Maiden Sketch Card 2022 Series: 7" etc.  Titles are written on the back by Jasmine and signed and dated back & front by both Jasmine and David. Each is an original artwork, not a print, and has been lightly sprayed with a fixative to prevent smearing (we recommend keeping these in the plastic sleeves or framing to avoid contact with moisture or skin oils as these are actual drawings on illustration board, not canvas).
We are very much encouraging collectors to TRADE their Sketch Cards — we suggest the Official Jasmine Becket-Griffith Collector's Group on Facebook. Folks trade Strangeling pins there too, and many also trade pins for artwork and vice versa. You can also make friends up at Jasmine's Patreon or David's Patreon.  So if you find yourself with a mermaid Sketch Card but have your eye on a dragon Sketch Card, hop up to Facebook or Patreon and trade!  Your original Sketch Card will come in a plastic sleeve, they are the same size as a standard trading card (same size as Jasmine's ACEO cards, but these are originals instead of giclée prints), like a Pokemon card. They fit easily into trading card binders, and are also suitable for framing — they fit into ACEO frames or any baseball card frame from the drugstore.
Stay tuned for more sketch cards as the "Death & the Maiden®" series progresses, and watch Patreon Lens for sneak previews as more are added and works-in-progress. Don't forget to also check out and follow David Van Gough for his own updates on this and other projects!
Death & the Maiden® is a collaboration with copyrights held by ©Jasmine Becket-Griffith and ©David Van Gough, all rights reserved.