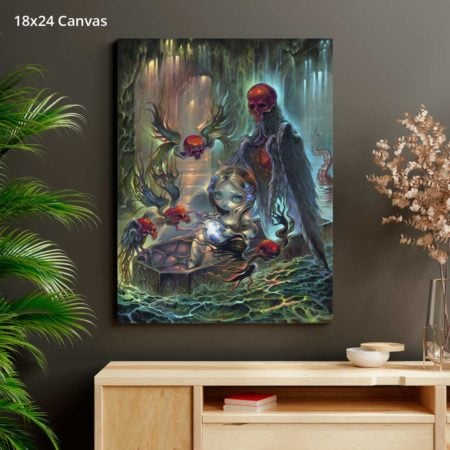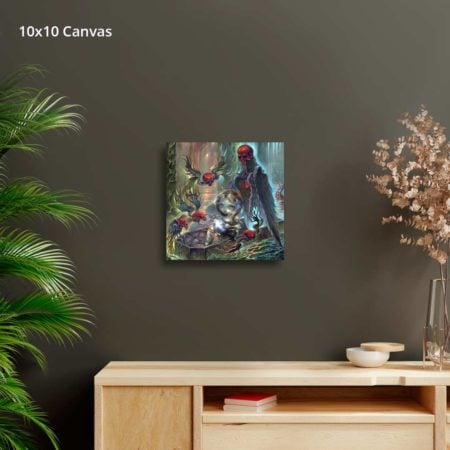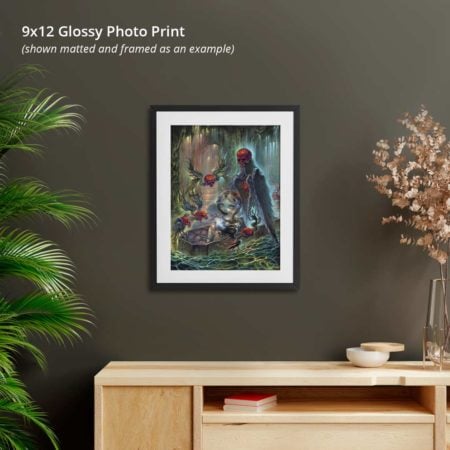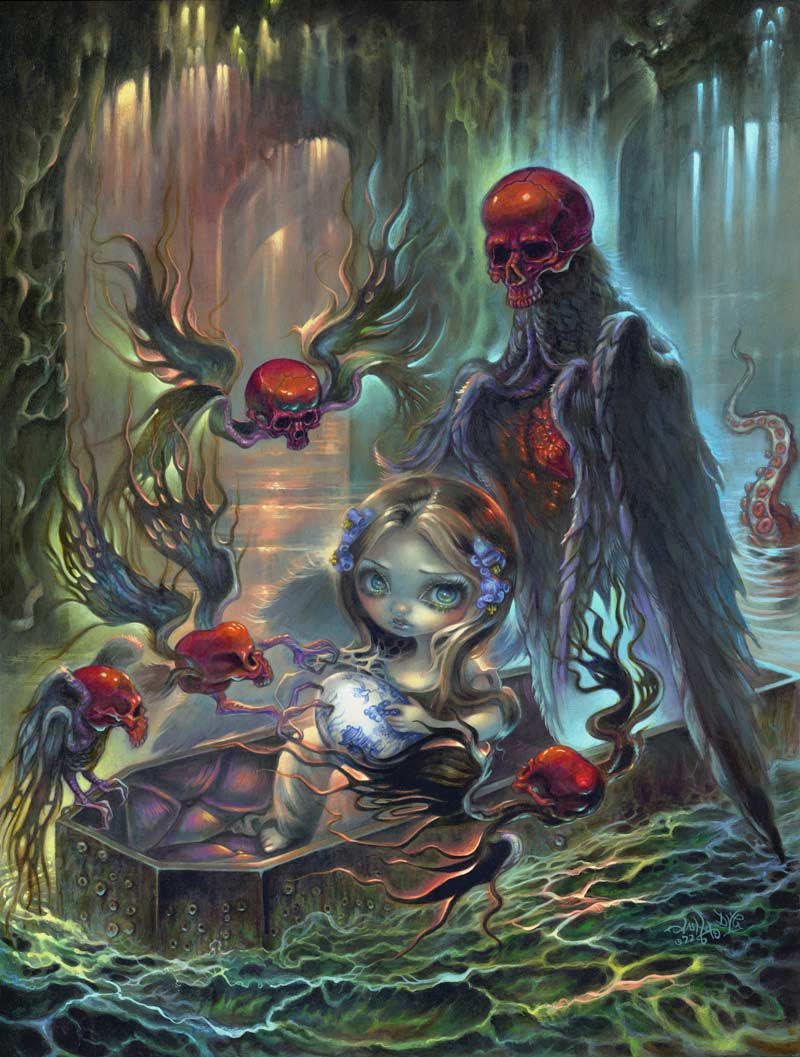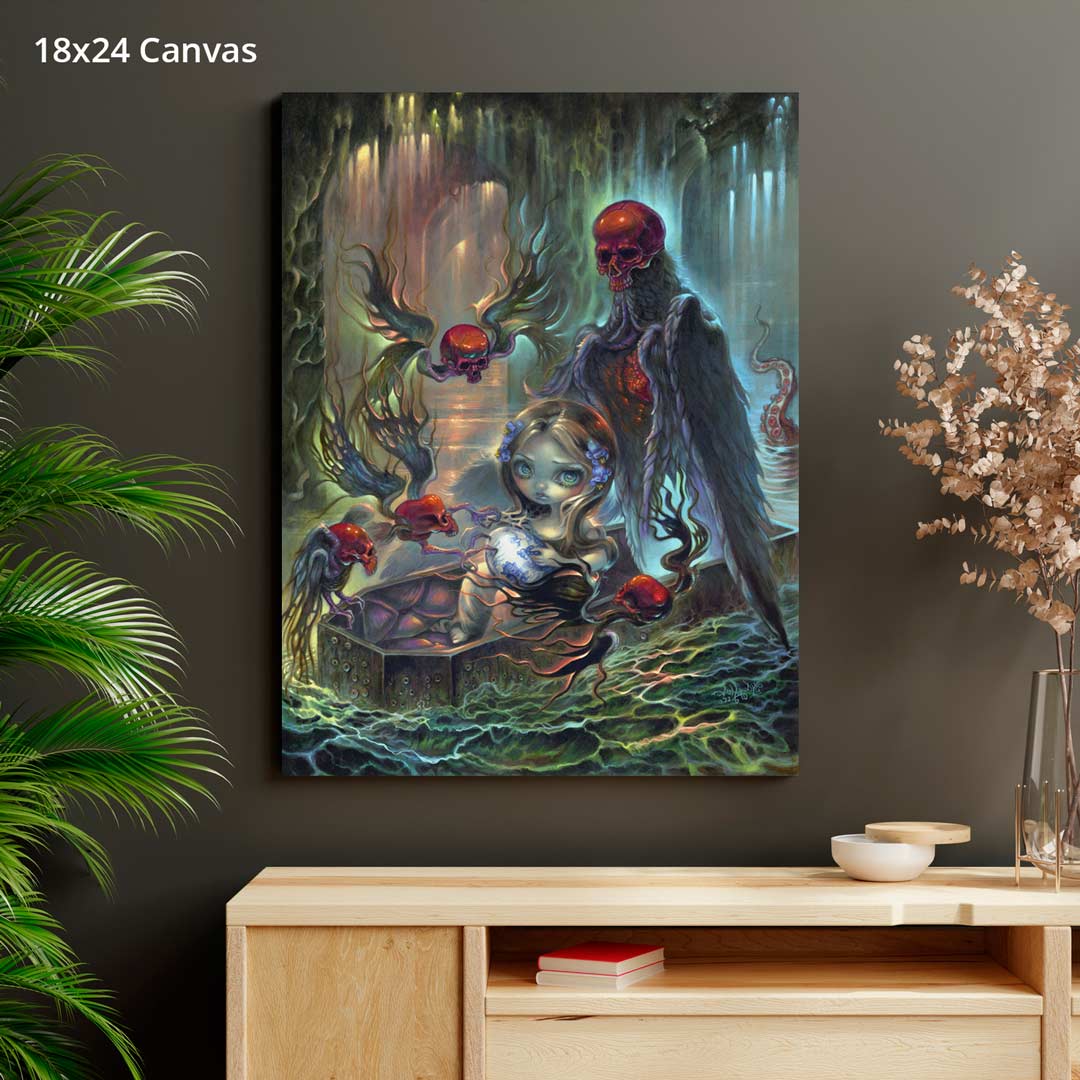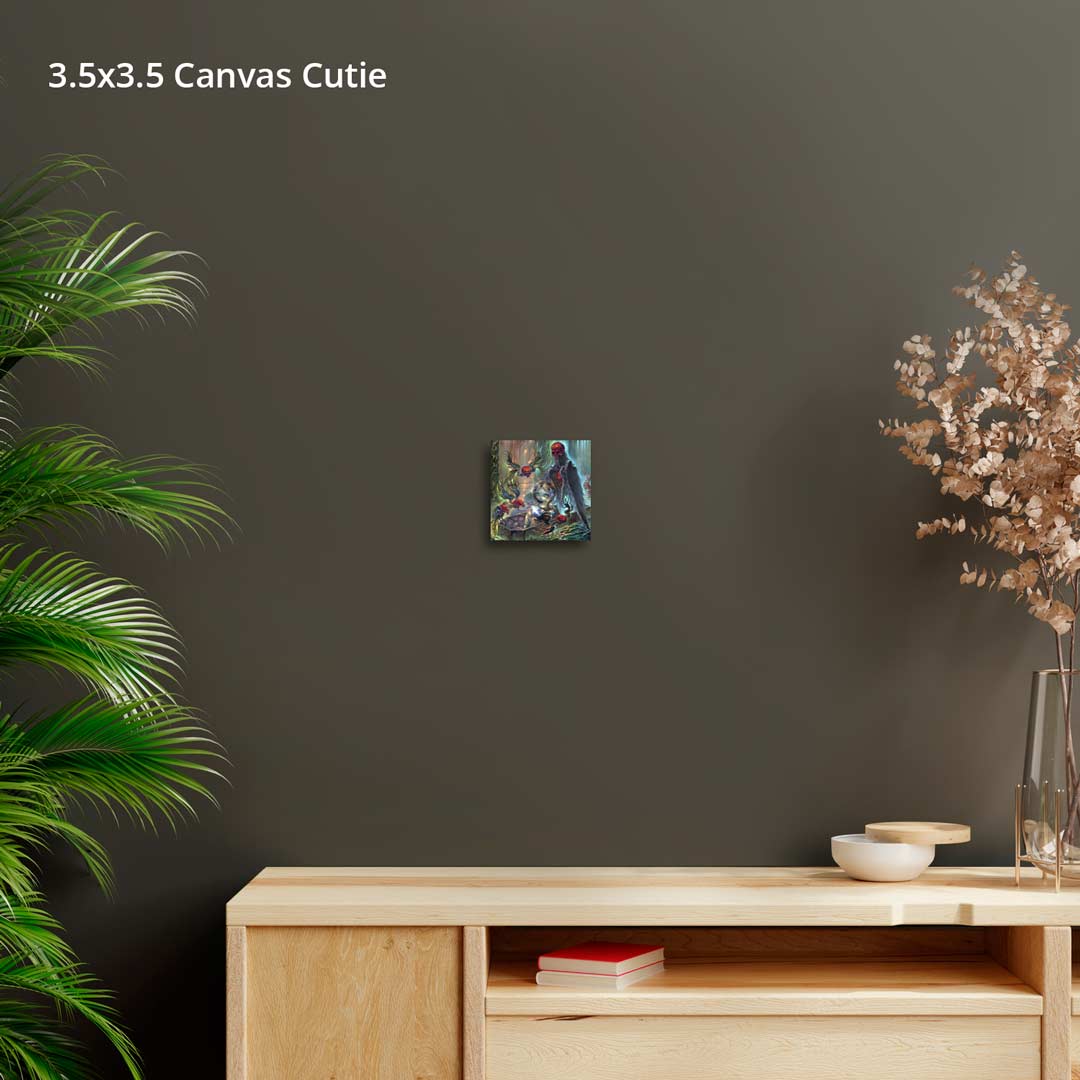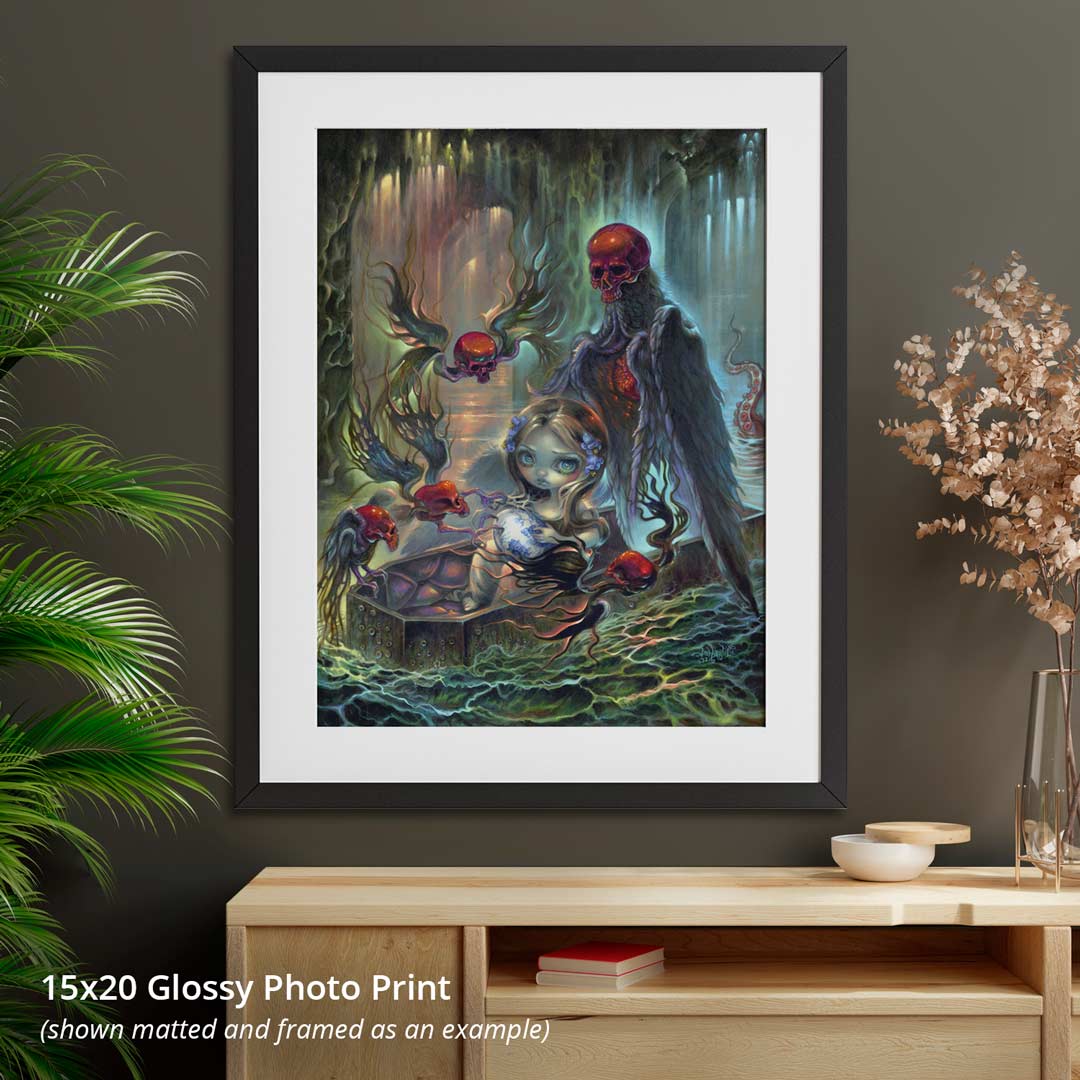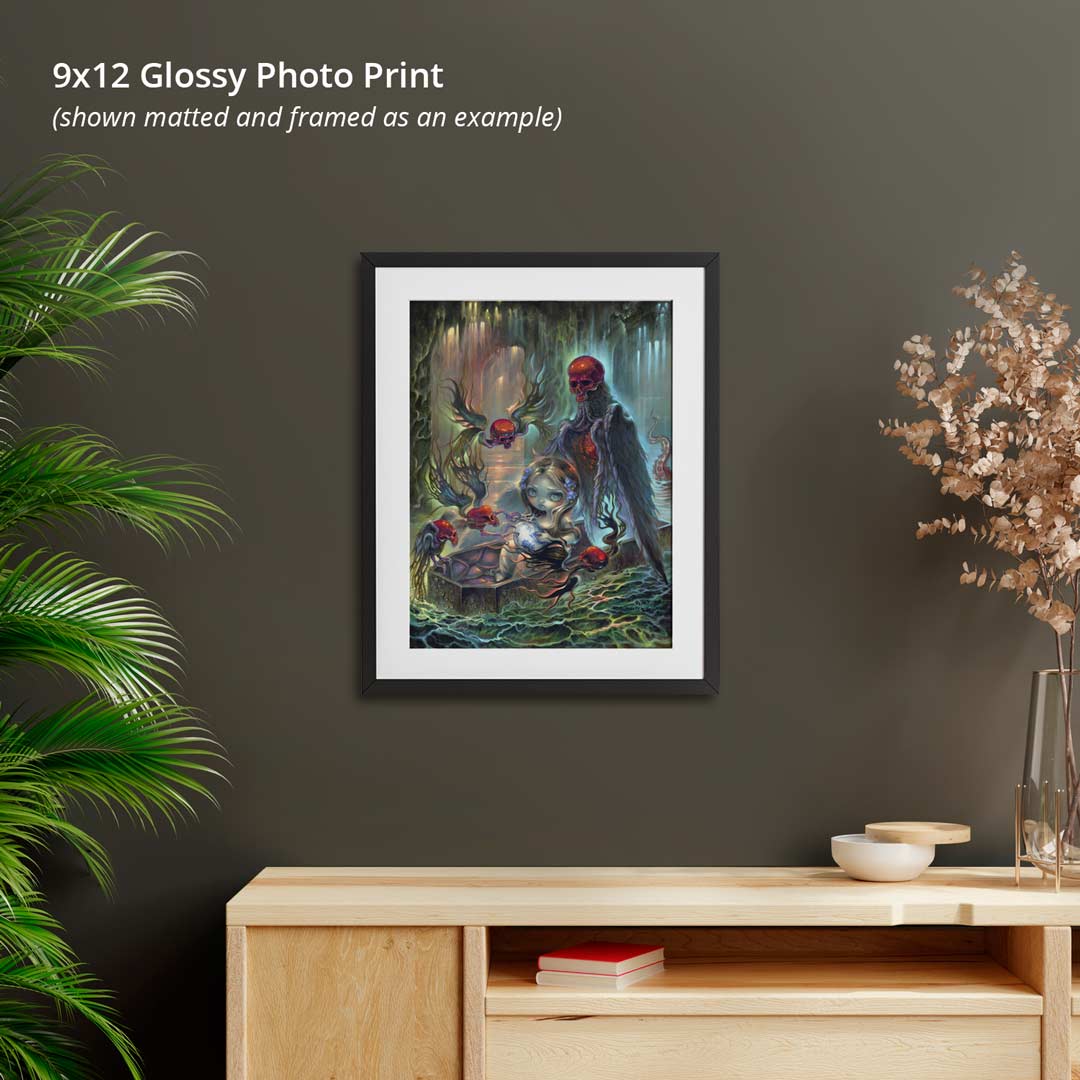 Death and the Maiden: Underworld
$25.00 – $295.00
Death & the Maiden: Underworld  is part of the Epic series of major releases in the Death & the Maiden® collection with artist David Van Gough. Underworld depicts the Stralice character being transported deeper into the Underworld by the skeletal Charon ferryman in an underground cavernous river. The winged Terrorbim creatures claw at her gown and clutch at the blue willow porcelain egg cradled by Stralice in the coffin-shaped barge.
Details
Available Product Types
Additional Details
Glossy Photo Prints
All Glossy Photo Prints are printed on a glossy photo paper with archival inks. A 1/2″ white border is included around the printed area of the artwork for all prints. When you select the print size and type that you want to purchase, the Printed Area Dimensions will appear below your selection. Please note the dimensions to make sure that the print you select is a size that will work for your needs. We cannot provide custom print sizes at this time. What you see offered is what is available.
Open Edition Canvas Prints
These prints are made on canvas with archival inks and varnished with a UV resistant finish. They are gallery-wrap style — stretched over 1 1/2″ deep stretcher bars and are shipped ready-to-hang. The canvas sides are printed in black, creating a natural self-framing effect, so you don't have to purchase an additional frame if you don't want to. The entire piece is also painted with a UV varnish and then heat set for maximum protection and longevity. They are truly beautiful pieces and it is often difficult to tell them apart from the originals. The open edition canvases are on deep gallery wrapped boards. The Open Editions are set to a specific size format and there may be some slight cropping around the edges from the original artwork.
Masterpiece Edition Prints
Masterpiece Limited Edition Hand-Embellished Canvases will be limited to the number ordered during the 48 hour launch window. Each Masterpiece Edition will be hand embellished by both Jasmine and David. Hand embellishments are made with thin layers of the same high-quality acrylic paints used in the original paintings to ensure a smooth, even appearance to the finished piece. The embellishments include subtle painterly enhancements to the print — no brand new subjects or objects are usually added so as to preserve the original character and composition of the piece. The Masterpiece Editions are signed and numbered by both artists on both the front and the back of the canvas. Please allow 6-8 weeks for delivery. We first have to make the canvas prints, ship them to Jasmine and David to hand-embellish, ship them back to our fine art printer for stretching, finishing, packaging and shipment to you — a quite time-consuming process.
Shipping
Masterpiece editions: Please allow 6-8 weeks for delivery. Each piece must be printed after they are ordered, varnished with a protective coating, hand embellished by the artists, stretched and packed for shipment. This is a labor-intensive and time-consuming process. We appreciate your patience and understanding.
Open Edition Canvases & Canvas Cuties: Please allow 3-4 weeks for delivery. Our canvases are coated with multiple layers of high-gloss UV-protective varnish which requires extensive dry time before the canvases can be stretched and packed for shipment.
Glossy Fine Art Prints: Please allow 2-3 weeks for delivery.
International shipping times can vary depending on your country's Border Customs practices.
NOTE: Some items may ship separately.