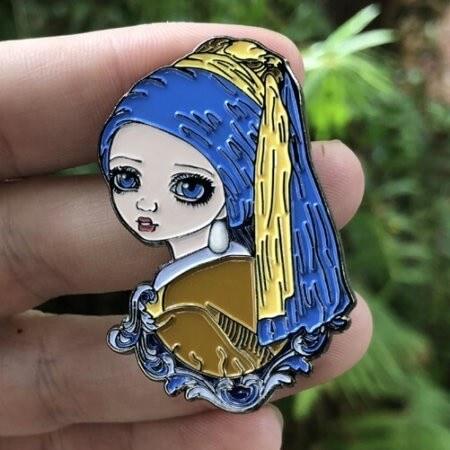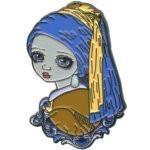 Girl with a Pearl Earring Collectible Enamel Pin
$15.99
Our Pin of the Month released in April, 2019 – "Girl with a Pearl Earring." Based on my painting of the same title (in turn inspired of course by the Vermeer painting from the 1600s), she was a very commonly requested pin design. She has a slightly higher pricepoint since she contains a couple of special features – firstly, wanting the "earring" to be a central focus of the pin, we selected (after multiple options were tested and this option was the most durable and lovely!) a unique type of "pearlescent" thick enamel appears only on the earring section of this pin! It is a different sort of enamel than the typical solid colours – whirled with iridescent reflective tones. Secondly, since I wanted to add the pearlescent enamel and have it slightly raised to garner more attention, with this specific pin we have had to use a new metal alloy to accommodate the different material – it's a bit fancier looking, from some angles the metal in the mold (lines, back, etc.) shine a silvery metallic – almost like cloissone (hence the small difference in price). Since of course "Girl with a Pearl Earring" is a shoulders-up portrait-style painting, I finished the edges with some blue & white porcelain-looking swirls, to simulate the Delft / Netherlands patterns popular in Vermeer's homeland. I painted the original pin design for her as an interactive live broadcast up at my Twitch channel! (I sometimes do pin designing up there in addition to my usual paintings, you can check out my channel here).
Our Patreon Pin Collectors will have automatically received this pin as the April Pin of the Month – if you haven't checked out the Pin Collector Tier at Patreon yet, please do so by clicking here – if you are a serious Pin Collector, it's the only way to go!
Strangeling pins are metal & enamel collectible pins – each is designed by me (Jasmine) personally.  I hand select the enamels and put a lot of love & thought into each design.  Each pin has two "locking" backs to ensure the safety & security of your pins (so you don't lose them!).  Your pin will come packaged with a backing board & sealed plastic bag, sent in a cushioned mailer.  We are always happy to ship worldwide.  We will be adding new designs each month, so stay tuned!  For questions about our pins or to read more about them, please visit the "Collectible Enamel Pins" section of our FAQ here!.  If you are interested in collecting more Strangeling pins, getting discounts, free pins, sneak previews & exclusive rare designs – definitely consider the Patreon Pin Collector tier on my Patreon page here.
Additional Details
Girl with a Pearl Earring
EDITION: OPEN EDITION
AVAILABILITY: General Public
RELEASE: PIN OF THE MONTH: April 2019
Size: 1.75″ Inch high * 4.3cm
Price: $15.99