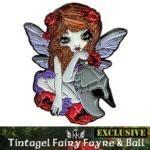 La Belle Dame Sans Merci Collectible Enamel Pin
"La Belle Dame Sans Merci" is a special pin I created specifically for the Tintagel Fairy Fayre in Cornwall, England, UK in the Spring of 2019 (for my booth in the vendors area). She is based upon my painting of the same title that I created for the show (it was also used on a lot of promotional materials, posters, flyers, etc.). Perfect for the Arthurian theme in the beautiful town of Tintagel! Only 200 of these were available as a free giveaway handed out to customers that day. I technically made a few extras in case of loss/damage/bloopers, and if they are not needed I will be giving those away too as freebies to the folks in my Patreon Pin Collector tier – sign up HERE to be included in the special Patreon Pin Tier!
Strangeling pins are metal & enamel collectible pins – each is designed by me (Jasmine) personally.  I hand select the enamels and put a lot of love & thought into each design.  Each pin has two "locking" backs to ensure the safety & security of your pins (so you don't lose them!).  Your pin will come packaged with a backing board & sealed plastic bag, sent in a cushioned mailer.  We are always happy to ship worldwide.  We will be adding new designs each month, so stay tuned!  For questions about our pins or to read more about them, please visit the "Collectible Enamel Pins" section of our FAQ here!.  If you are interested in collecting more Strangeling pins, getting discounts, free pins, sneak previews & exclusive rare designs – definitely consider the Patreon Pin Collector tier on my Patreon page here.
Additional Details
EDITION: EXCLUSIVE
AVAILABILITY: Tintagel Fairy Fayre MAY 2019 EVENT EXCLUSIVE
RELEASE: May 4, 2019
Size: 1.75″ Inch high * 4.4cm
Price: NOT FOR SALE