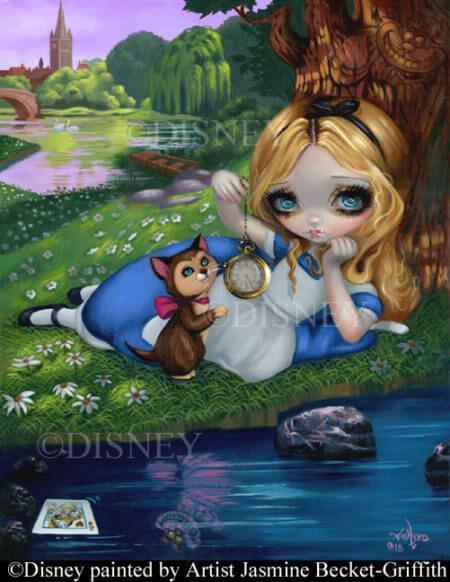 Alice and Dinah
"Alice and Dinah"
The second painting of Disney's Alice I have painted for the Disney company, this beautiful piece features Alice playing with her cat Dinah!  One of the rare pieces of art that features Dinah, this scene places Alice in her English countryside village prior to her Wonderland adventures.  Despite the bucolic setting, you can see some definite hints of her journey to come – if you look closely, you'll see the Cheshire Cat appearing as Dinah's watery reflection, and he is also carved into the bark of the tree in your upper right-hand corner!  Alice dangles the White Rabbit's pocketwatch, and a playing card featuring the Queen of Hearts floats on by….Prints, merchandise and Limited Edition Canvases are available exclusively through Disney.
 If you are in California, you can get this image in various formats at Disneyland's WonderGround Gallery.  In Florida, she's available (she's very popular, so they sometimes have to re-stock inventory, but she should be there!) at the WonderGround Gallery there located inside Disney's Marketplace Co-Op in their Downtown Disney / Disney Springs, as well as various other locations at Walt Disney World.
Don't live in California or Florida?  Don't worry, you can get my Disney artwork shipped WORLDWIDE.  As I'm not a castmember nor do I get a discount on my own art, lol, I can't really sell it here myself on my own site, but there are many many other options for you!
The easiest option (with international shipping, too!!) is to visit YourWDWStore online
HERE
They are a local online Disney shopping service that retails merchandise sold at the Disney parks & galleries.
Alternately, many locals and castmembers have eBay stores & eBay auctions that retail Disney park merchandise, many of them ship worldwide (and you can even find out of print or retired images!) – you can see which items (usually hundreds) of my Disney artwork are currently available on eBay just by clicking
HERE
You may also order this piece worldwide through Disney's "Disney Parks Shopping App" available on your smartphone (availability varies, it's worth it to check periodically as inventory there fluctuates).
Currently they are re-structuring their own Park Merchandise shipping, but typically Disneyland's WonderGround Gallery is very happy to ship worldwide and takes orders via email at:
[email protected]
  or by telephone at: 877-560-6477.  Just let them know you are interested in Jasmine Becket-Griffith's artwork from WonderGround Gallery and they would be happy to let you know what is currently available.
Additional Details