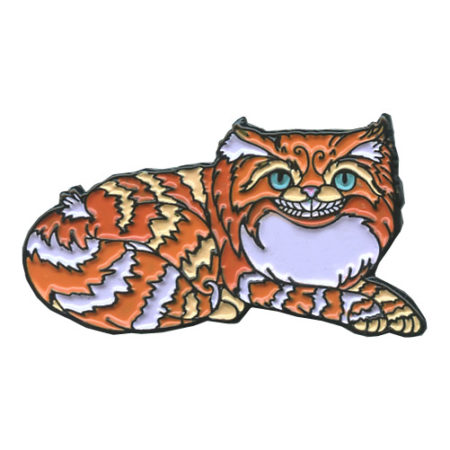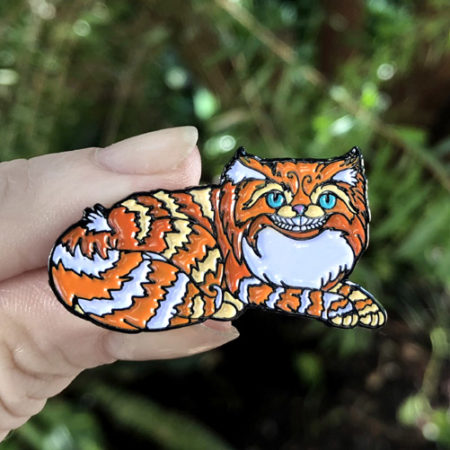 Orange Cheshire Cat Collectible Enamel Pin
$13.99
Our Pin of the Month for December, 2019 – "Orange Cheshire Cat." He's a variant on my "Cheshire Cat" pin design (I plan on doing a few different palette variations with this mold). He is of course based on the delightful kitty from Lewis Carroll's Alice in Wonderland book, appears in many of my Alice themed paintings – always with that mysterious grin…. Our Patreon Pin Collectors in December will have already automatically been shipped this cutie! Remember, you can always sign up for the Pin of the Month Club at my Patreon Page here.
Our Patreon Pin Collectors will have automatically received this pin as the November Pin of the Month – if you haven't checked out the Pin Collector Tier at Patreon yet, please do so by clicking here – if you are a serious Pin Collector, it's the only way to go!
Strangeling pins are metal & enamel collectible pins – each is designed by me (Jasmine) personally. I hand select the enamels and put a lot of love & thought into each design. Each pin has two "locking" backs to ensure the safety & security of your pins (so you don't lose them!). Your pin will come packaged with a backing board & sealed plastic bag, sent in a cushioned mailer. We are always happy to ship worldwide. We will be adding new designs each month, so stay tuned! For questions about our pins or to read more about them, please visit the "Collectible Enamel Pins" section of our FAQ here!. If you are interested in collecting more Strangeling pins, getting discounts, free pins, sneak previews & exclusive rare designs – definitely consider the Patreon Pin Collector tier on my Patreon page here.
Additional Details
EDITION: OPEN EDITION
AVAILABILITY: General Public
RELEASE: PIN OF THE MONTH: December 2019
Size: 1.75″ Inch wide * 4.4cm
Price: $13.99