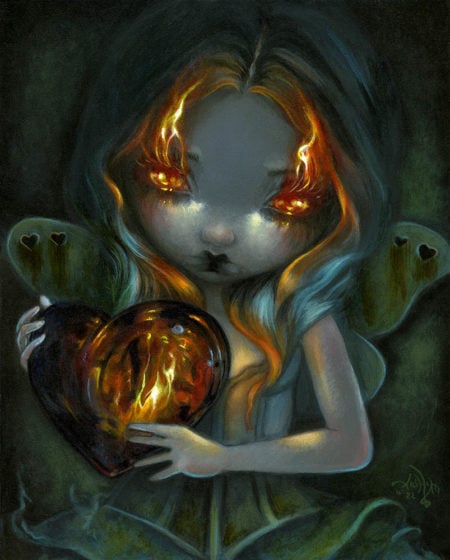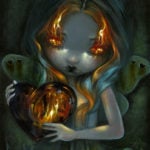 Burning a Broken Heart
$16.99 – $595.00
"Burning a Broken Heart" is a response to my 2009 painting "Mending a Broken Heart." A study in painting warm flames against a cool backdrop, painted around Valentine's Day 2022.
Details
Available Product Types
Additional Details
Glossy Photo Prints
All Glossy Photo Prints are printed on a glossy photo paper with archival inks. A small white border is included around the printed area of the artwork. When you select the print size and type that you want to purchase, the Printed Area Dimensions will appear below your selection. Please note the dimensions to make sure that the print you select is a size that will work for your needs. We cannot provide custom print sizes at this time. What you see offered is what is available.
Open Edition Canvas Prints
These prints are made on canvas with archival inks and varnished with a UV resistant finish. They are gallery-wrap style — wrapped on boards, stretched over a frame and are shipped ready-to-hang. The canvas sides are printed in black, creating a natural self-framing effect, so you don't have to purchase an additional frame if you don't want to. The entire piece is also painted with a UV varnish and then heat set for maximum protection and longevity. They are truly beautiful pieces and it is often difficult to tell them apart from the originals. We only release these open edition canvases once Limited Edition Hand-Embellished Canvases have been sold out. The open edition canvases are on deep gallery wrapped boards. The Open Editions are set to a specific size format and there may be some cropping around the edges from the original artwork. NOTE: Any watermarks in the image are only for digital display and does not appear in the originals or prints.
Shipping
Paper prints, canvases, and enamel pins ship separately. Paper Prints and Pins: Please allow 1-2 weeks for shipping in the US and 2-4 weeks for international shipping. Canvas Prints: Please allow 2-3 weeks for shipping in the US and 4-5 weeks for international shipping. Allow All prints are created on-demand and the production time for canvases is longer as the process is more involved than producing paper prints. International shipping times can vary depending on your country's Border Customs practices.  Learn more about our shipping practices.