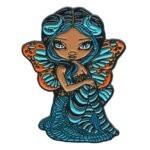 Turquoise Lightning Collectible Enamel Pin
$13.99
"Turquoise Lightning" is a delightful pin – she is the sister (a palette variant of the same basic mold shape) of an earlier pin of mine – "Pink Lightning." Changing the palette on this one gives a very different feel to this lovely little fairy – our August Pin of the Month for 2019, she is kitted out in vibrant turquoise and a glorious deep orange, set off with a deeper tan skintone and a sassy look on her face. She reminds me of the beautiful Pink Striped Oak Moths that live around my house here in Florida, and embodies a summery feel I associate with late August.
Our Patreon Pin Collectors will have automatically received this pin as the June Pin of the Month – if you haven't checked out the Pin Collector Tier at Patreon yet, please do so by clicking here – if you are a serious Pin Collector, it's the only way to go!
Strangeling pins are metal & enamel collectible pins – each is designed by me (Jasmine) personally.  I hand select the enamels and put a lot of love & thought into each design.  Each pin has two "locking" backs to ensure the safety & security of your pins (so you don't lose them!).  Your pin will come packaged with a backing board & sealed plastic bag, sent in a cushioned mailer.  We are always happy to ship worldwide.  We will be adding new designs each month, so stay tuned!  For questions about our pins or to read more about them, please visit the "Collectible Enamel Pins" section of our FAQ here!.  If you are interested in collecting more Strangeling pins, getting discounts, free pins, sneak previews & exclusive rare designs – definitely consider the Patreon Pin Collector tier on my Patreon page here.
Additional Details
EDITION: OPEN EDITION
AVAILABILITY: General Public
RELEASE: August 14, 2019
Size: 1.5″ inches * 3.8 cm
Price: $13.99