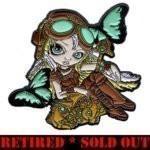 Clockwork Dragonling Collectible Enamel Pin
$13.99
While we here at Strangeling.com have SOLD OUT of this pin, Paul & our friends at StrangelingUK.com HERE  still may have a few "Clockwork Dragonling" pins available across the pond.  They are more than happy to ship to the USA or anywhere else in the world, so definitely give them a shot!
Our Pin of the Month released in April, 2018 – "Clockwork Dragonling" – based on my painting of the same name. A darling little steampunk fairy with goggles and yes – a mechanical / clockwork baby dragon!
Strangeling pins are metal & enamel collectible pins – each is designed by me (Jasmine) personally.  I hand select the enamels and put a lot of love & thought into each design.  Each pin has two "locking" backs to ensure the safety & security of your pins (so you don't lose them!).  Your pin will come packaged with a backing board & sealed plastic bag, sent in a cushioned mailer.  We are always happy to ship worldwide.  We will be adding new designs each month, so stay tuned!  For questions about our pins or to read more about them, please visit the "Collectible Enamel Pins" section of our FAQ here!.  If you are interested in collecting more Strangeling pins, getting discounts, free pins, sneak previews & exclusive rare designs – definitely consider the Patreon Pin Collector tier on my Patreon page here.
Additional Details
EDITION: OPEN EDITION
AVAILABILITY: Retired/Sold Out
RELEASE: PIN OF THE MONTH: April 2018
Size: 1.5″ Inch high, 1″ wide * 3.8cm
Price: $13.99