Jasmine's at Epcot! New Original Paintings, Strangeling Vinyl Now In Stock, Disney, New Pins, Custom Giveaway, Kirin & Bakeneko, The Moon & More!
Jasmine Becket-Griffith

Updates from Jasmine!
Happy New Year! 2018 is off to a magnificent start.  Sit back, relax and enjoy all my new artwork….
Firstly – new stuff is happening at Disney!  I've been appearing at the Epcot International Festival of the Arts and will be back for many more dates!  Tomorrow (Saturday the 20th) I'll be at Epcot's "Pop Gallery Tent" from 5-7pm over by the Canada Pavilion, and next Friday (the 26th) I'll be at Epcot's "WonderGround Gallery" tent (over by the the France/Morocco Pavilions) from 5-7pm as well.  I'll be back for many other dates too – both tents always have my artwork (Disney stuff at WG, personal stuff at Pop) whether I'm there or not, in case you miss me.  The Pop Gallery Tent has my new Strangeling Vinyl dolls, by the way, and the WonderGround Gallery Tent has my new URSULA prints & merch.  Details and additional dates are on my Events Page here
Speaking of Strangeling Vinyl – we just got our huge shipment of "Alice in the Starry Night" inventory in, so if you pre-ordered your doll they are shipping NOW.  If you were waiting for them to get in stock – we have them NOW so you can order worldwide (we ship anywhere) right here on my website today!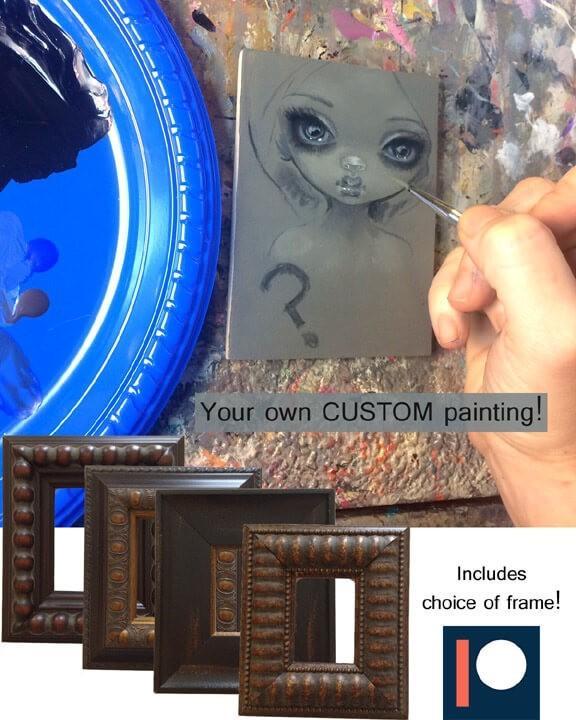 And something fun just for my fans – 
I'm giving away an original CUSTOM painting
 up at my Patreon at 8pm EST this coming Monday night!  Join Patreon 
here
 – a custom painting means that you'll get to tell me what to paint and even choose a frame.  Tons of other fun stuff happening up there too right now.
New paintings!  I have  four new paintings to show you!  Two have sold, one is up for auction, and one is now available at a gallery!
The first is the original concept painting for my "Alice in the Starry Night" vinyl dolls – I'm doing an auction right now for the actual original 8×10″ acrylic painting and you also get a bonus autographed Alice vinyl doll too!  Bidding for the original Alice painting / Doll auction is 
on eBay right here
.  Bidding starts at a penny but it looks like that is moving fast!
"The Moon" original 78 Tarot painting has sold, 
but prints are  
here
, and then we have my gorgeous geisha girl in 
"Kirin and Bakeneko" available from the Corey Helford Gallery 
in Los Angeles
(email them at 
[email protected]
 or call (310) 287-2340, they ship worldwide).
We do have prints & canvases of 
"Kirin and Bakeneko"
here
.  Finally, 
"Alice's Advice" 
is a brand new original painting for my upcoming Alice in Wonderland Oracle Deck – the original has sold, but we have prints & canvases now available 
here
.
We have a NEW enamel pin though this month!  The January Pin of the Month – "Frost Dragonling" – available to the public for sale here!  You can see all of the Strangeling Pins we've released so far together here.  Or alternately you can sign up for the Pin Collector Club through my Patreon here and you  will automatically receive Frost Dragonling along with the Patreon-only pin "The Scarecrow" and you'll get each new Pin of the Month as they are released (along with Patreon-only pins and exclusive bonus pin giveaways, discounts, and more).  We are releasing a new Strangeling Lanyard too and you will receive the lanyard (and any new lanyard designs we come out with automatically!.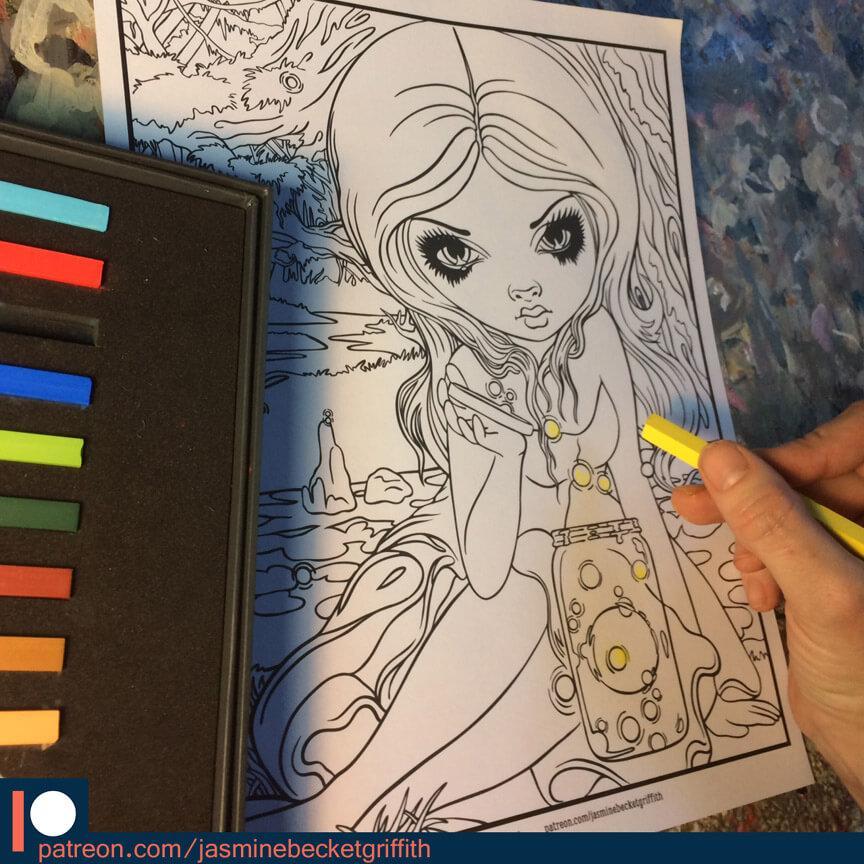 Speaking of 
Patreon 
 – I've posted a new Exclusive Patreon coloring page – "Releasing Fireflies" – a new downloadable page – if you are already part of the coloring tier ($5+) you can 
click here
 and see all the new pages!  Not yet a member?  Just $5 lets you immediately download ALL the coloring pages so far, all at once.  There are eight pages in all (so theoretically you could always join for a week, download all the coloring pages and quit if you don't want any of the other perks, all for $5).  If you do enjoy them, stick around and you'll get new ones as they are added (and of course previews, sneak peeks, behind the scenes content, giveaways including original paintings & more).  Simply click the link to 
Patreon here
 and click the orange "Become a Patron" button, it takes less than sixty seconds.
Finally – we have a couple of LAST CHANCE canvases – the final #5/5 Masterpiece Edition canvas of "Alice Through a Vermeer Glass" is up for auction here and the final #25/25 Limited Edition canvas of "Ninja Dragonlings" is up for auction here.  All the limited/masterpiece editions are all gone other than these last ones up for auction, we do still have open editions available however.
XO Jasmine