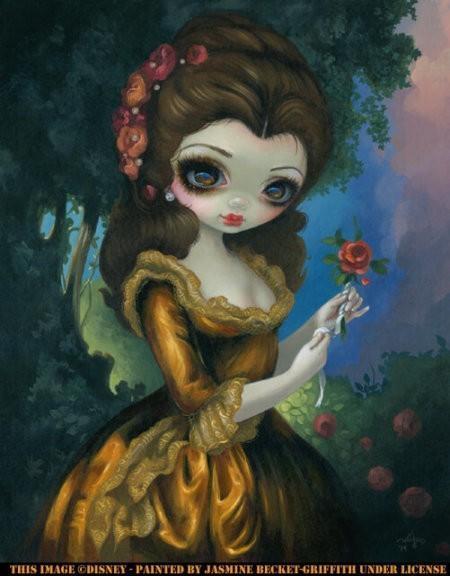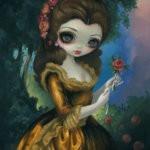 Princess Belle's Royal Portrait
$16.99 – $195.00
A licensed Disney painting, featuring Belle – from "Beauty and the Beast" – of course!  Entitled "Princess Belle's Royal Portrait" – an acrylic painting on panel, this is an illustration of Belle done as a Vigee-Lebrun (court painter to Marie Antoinette) portrait, straight out of Versailles.  Belle is shown here in her princess finery…. and is that the Enchanted Rose in her hand?
I painted this for the Hamilton Collection (www.HamiltonCollection.com) and they will be creating other merchandise, figurines, prints on glass, etc. – so stay tuned.
This painting debuted at Pop Gallery here at Downtown Disney at the Walt Disney World Resort here in Florida, prints & canvases are also available at the gallery for the same prices as here, so if you are local or visiting Disney World, definitely check out the gallery!
PLEASE NOTE:  As this is a ©Disney painting, I am not able to make prints of her myself.  This means that I must purchase the prints myself from their publisher, then I sign them, and then I re-sell them again here at Strangeling.com .  This means that the print sizes/options/materials/shipping costs/prices are different than the other prints that I sell here. They are all still beautifully printed, high quality and archival materials, just a bit different from the non-Disney prints that I make myself, as these are printed by their publishers and not by me.  Please read the item descriptions carefully to avoid confusion:
Signed Paper prints come in two sizes – 8″x10″ (for $20) and 16″x20″ (for $50).  These are on glossy heavyweight paper, and have an additional 1″ white border around the outside edge.  These are signed on the FRONT by me!
Signed Canvas prints also come in two sizes – 8″x10″ (for $95) and 16″x20″ (for $195).  These are glossy archival canvas prints, and are wrapped on deep gallery-style wooden stretcher bars, ready-to-hang, glossy black sides, and they even have wire hangers installed already on the back side.  The publishers who make these use a deeper profile stretcher board than the other prints we sell at strangeling.com, which means these are "thicker" or "deeper" than my other canvases.  These canvases are OPEN EDITION which means they are not limited.  They are not numbered or hand embellished, but they are SIGNED by me on the front (yay!) and are super gorgeous.  These are immediately ready to pop up onto your wall.
©Disney
Details
Available Product Types
Additional Details
Glossy Photo Prints
All Glossy Photo Prints are printed on a glossy photo paper with archival inks. A small white border is included around the printed area of the artwork. When you select the print size and type that you want to purchase, the Printed Area Dimensions will appear below your selection. Please note the dimensions to make sure that the print you select is a size that will work for your needs. We cannot provide custom print sizes at this time. What you see offered is what is available.
Open Edition Canvas Prints
These prints are made on canvas with archival inks and varnished with a UV resistant finish. They are gallery-wrap style — wrapped on boards, stretched over a frame and are shipped ready-to-hang. The canvas sides are printed in black, creating a natural self-framing effect, so you don't have to purchase an additional frame if you don't want to. The entire piece is also painted with a UV varnish and then heat set for maximum protection and longevity. They are truly beautiful pieces and it is often difficult to tell them apart from the originals. We only release these open edition canvases once Limited Edition Hand-Embellished Canvases have been sold out. The open edition canvases are on deep gallery wrapped boards. The Open Editions are set to a specific size format and there may be some cropping around the edges from the original artwork. NOTE: The watermark in the image is only for digital display and does not appear in the originals or prints.
Shipping
Please allow 1-2 weeks for shipping in the US and 2-4 weeks for international shipping. International shipping times can vary depending on your country's Border Customs practices. NOTE: Some items ship separately. Learn more about our shipping practices.