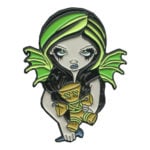 Voodoo in Green Collectible Enamel Pin
Waay back in late 2019 I designed this pin (a variant on my "Voodoo in Violet") intending her to be the Exclusive for the MegaCon Convention in 2020. Of course, pandemic, etc. – MegaCon was canceled, and subsequently each other 2020 convention we moved "Voodoo in Green" to became canceled as the quarantining wore on. Since we didn't have enough of the "Voodoo in Green" pins for a regular monthly release, I decided to just make her a special pin in that I only hand her out as gifts & prizes (like on my weekly Twitch live broadcasts), maybe to surprise a Patreon Patron now and then, hide them in the woods, trade them with my personal pin lanyard at events, and to add some extra excitement to Mystery Pin Packs. So – this one is not for sale! You can however sometimes find them from folks who have been lucky enough to have one and is willing to sell/trade up at Facebook's Strangeling Pins Group here.
I might do a few other limited runs of "Rogue Pins" like this one, I like the idea of special pins that are hiding out there, not for sale, but given as gifts or found as prizes….
The backs of each pin feature two posts with "locking" style backs, just like my usual pins, the metal back is a shiny silver finish, measures 1.5″ and has a thick glossy enamel top-coating with beveled edges/sides, these are manufactured and die-cut by the same pin factory we hire to create all of our pins, are solid metal and very high quality.
Not Available for Purchase
Additional Details
EDITION: ROGUE PIN
AVAILABILITY: ONLY GIVEN AS PRIZES OR TRADED LIVE
RELEASE: HANDED OUT BY JASMINE AS OF 2020
Size: 1.5″ Inch high * 3.8cm
Price: NOT FOR SALE
Details: Oh, "Voodoo in Green" – this pin is CURSED! Well, not really, but she's certainly an odd one.