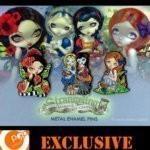 Pop Gallery Exclusive Set One – Collectible Enamel Pins
The first special Pop Gallery Exclusives! This set of three pins includes "Poppy Magic," "Alice and Snow White" and "Daydreams and Frogs" – all together as one set. These are created for and sold only by the Pop Gallery at Disney Springs (and their sister Hoypoloi Galleries in Chicago ). Luckily, Pop Gallery is happy to ship worldwide and they take orders via telephone. Call them here 407-827-8200 (or alternately you can try emailing them at [email protected] ) – let them know you'd like the first set of Pop Gallery Strangeling Pins. Each pin of course is based on my own original paintings that debuted specifically at Pop Gallery (and the Limited Editions of each painting are also available exclusively through them). Pop Gallery is located at Disney Springs West Side at the Walt Disney World Resort in Florida – right next door to the AMC Theatres (on the Splitsville side) – you can pick them up in person there (or also at their sister Hoypoloi Galleries at multiple terminals at Chicago's O'Hare Airport and also at their Chinatown location in Chicago). Again though, Pop Gallery is always happy to ship worldwide – and as they are the only folks who sell this pin set – definitely give them a call!
Strangeling pins are metal & enamel collectible pins – each is designed by me (Jasmine) personally.  I hand select the enamels and put a lot of love & thought into each design.  Each pin has two "locking" backs to ensure the safety & security of your pins (so you don't lose them!).  Your pin will come packaged with a backing board & sealed plastic bag, sent in a cushioned mailer.  We are always happy to ship worldwide.  We will be adding new designs each month, so stay tuned!  For questions about our pins or to read more about them, please visit the "Collectible Enamel Pins" section of our FAQ here!.  If you are interested in collecting more Strangeling pins, getting discounts, free pins, sneak previews & exclusive rare designs – definitely consider the Patreon Pin Collector tier on my Patreon page here.
Additional Details
EDITION:  OPEN EDITION SET OF THREE
AVAILABILITY:  POP GALLERY EXCLUSIVE
RELEASE: September 2017
Size:  1.5″ high * 3.8cm each
Price:  $40