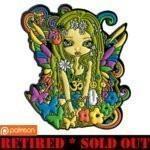 Paisley Collectible Enamel Pin
RETIRED
"Paisley" was based on my beautiful hippie fairy painting of the same name! She was originally based on a character in a short story my sister Kachina wrote, which will be appearing in the sequel to our Strangeling art book. She was an incredibly intricate pin; it actually took me longer to design the pin than it did to paint the original painting! We used SO many colours in this one, it works out so well with her psychedelic feel with all the swirls & flowers & butterflies. This was the second PATREON EXCLUSIVE pin. This meant you couldn't buy her. She was given away free only to those in the Patreon Pin Collector tier of my Patreon here. If you are in any way interested in collecting my pins, I really do recommend signing up. You can live anywhere in the world, it is $25/month and worth every penny. You get the free current Patreon Exclusive pin as well as that month's "Pin of the Month" pin immediately mailed to you, and then a new "Pin of the Month" each month automatically shipped along with additional Patreon Exclusive pins throughout the year. We also giveaway various Event Exclusive pins (like those from MegaCon & DragonCon) to the Patreon Pin Collectors. You also get 10% off ALL pins, prints & canvases & more from Strangeling.com – so if you are even planning on buying a couple of things it is well worth signing up for (it even works on my expensive Masterpiece Editions). Again, this pin was not for sale to the public, she was a free gift to my Patreon Pin Collectors group. I just have her here at Strangeling.com as part of the pins archive and to let you all know about the Patreon Pin Collector tier!
We add new Patreon Exclusive pins on a regular basis – check up at Patreon to see what the current special pin is!
Strangeling pins are metal & enamel collectible pins – each is designed by me (Jasmine) personally.  I hand select the enamels and put a lot of love & thought into each design.  Each pin has two "locking" backs to ensure the safety & security of your pins (so you don't lose them!).  Your pin will come packaged with a backing board & sealed plastic bag, sent in a cushioned mailer.  We are always happy to ship worldwide.  We will be adding new designs each month, so stay tuned!  For questions about our pins or to read more about them, please visit the "Collectible Enamel Pins" section of our FAQ here!.  If you are interested in collecting more Strangeling pins, getting discounts, free pins, sneak previews & exclusive rare designs – definitely consider the Patreon Pin Collector tier on my Patreon page here.
Additional Details
EDITION:  EXCLUSIVE
AVAILABILITY:  PATREON EXCLUSIVE – RETIRED
RELEASE:  July 24th, 2017
Size:  1.5″ inches * 3.8 cm
Price:  NOT FOR SALE