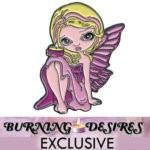 Burning Desires Collectible Enamel Pin
A special pin I designed for "Enchanted Treasures Gifts" (formerly "Burning Desires Gifts") – a lovely Canadian gift store that imports and sells a lot of my figurines and collectibles for the international market. You can order her online HERE. Be sure to check out all my other figurines & collectibles at Enchanted Treasures Gifts HERE. Tanya (the wonderful lady who owns & operates Enchanted Treasures Gifts) is happy to ship these pins worldwide (not just Canada, lol) – again, she is exclusive to the Enchanted Treasures Gifts website and shop but you can order her online anywhere in the world HERE. So whether you live in the US or the UK or Canada or the EU or Asia or anywhere else really, you can buy from Tanya at Enchanted Treasures Gifts! Since the shop is also famous for their soy candles (hence the former name "Burning Desires") – I designed this beautiful fairy to be holding a lit tea light candle – so pretty!
Strangeling pins are metal & enamel collectible pins – each is designed by me (Jasmine) personally.  I hand select the enamels and put a lot of love & thought into each design.  Each pin has two "locking" backs to ensure the safety & security of your pins (so you don't lose them!).  Your pin will come packaged with a backing board & sealed plastic bag, sent in a cushioned mailer.  We are always happy to ship worldwide.  We will be adding new designs each month, so stay tuned!  For questions about our pins or to read more about them, please visit the "Collectible Enamel Pins" section of our FAQ here!.  If you are interested in collecting more Strangeling pins, getting discounts, free pins, sneak previews & exclusive rare designs – definitely consider the Patreon Pin Collector tier on my Patreon page here.
Additional Details
EDITION: OPEN EDITION
AVAILABILITY: BURNINGDESIRESGIFTS.COM/ ENCHANTED TREASURES GIFTS EXCLUSIVE
RELEASE: January 2018
Size: 1.5″ high * 3.8cm
Price: $16.95 CA