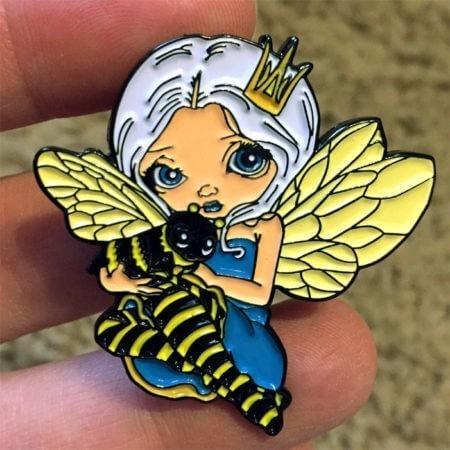 Bee Princess Collectible Enamel Pin
"Bee Princess" is a very special pin!  We are giving her away for FREE with every $25+ order here at Strangeling.com in celebration of our 21st Anniversary.   Yes – July 2018 marks the 21st anniversary for my Strangeling website – can you believe it?  This little sweetheart is a darling little bee fairy with a cuddly bumblebee friend.   Again, all orders over $25+ that are placed through Strangeling.com for the month of July will receive a free "Bee Princess" pin, while supplies last.  You don't need to add her to your cart or do anything special, we'll add her to each package we send in July until we run out, starting at midnight as soon as it turns July 1st (based on midnight Eastern Time overnight between June 30 and July 1)!  Please note – part of the reason I have created this Bee Princess pin is to help benefit the bee-savers at Garden for Wildlife!  If you share this page or link or image on Twitter, Facebook, Instagram, etc. be sure to tag @beesponsible and use the #dontkillmybuzz and the National Wildlife Federation will get $1 for each mention specifically to help save bees!!!  So please, share and use the tag & hashtag – it's easy and helps spread the good word.
Strangeling pins are metal & enamel collectible pins – each is designed by me (Jasmine) personally.  I hand select the enamels and put a lot of love & thought into each design.  Each pin has two "locking" backs to ensure the safety & security of your pins (so you don't lose them!).  Your pin will come packaged with a backing board & sealed plastic bag, sent in a cushioned mailer.  We are always happy to ship worldwide.  We will be adding new designs each month, so stay tuned!  For questions about our pins or to read more about them, please visit the "Collectible Enamel Pins" section of our FAQ here!.  If you are interested in collecting more Strangeling pins, getting discounts, free pins, sneak previews & exclusive rare designs – definitely consider the Patreon Pin Collector tier on my Patreon page here.
Additional Details
EDITION:  EXCLUSIVE
AVAILABILITY:  Strangeling.com 21st Anniversary EXCLUSIVE
RELEASE:  July 1, 2018
Size:  1.5″ inches * 3.8 cm
Price:  NOT FOR SALE