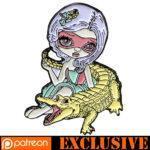 Albino Alligator Girl Collectible Enamel Pin
"Albino Alligator Girl" is the Patreon Exclusive Pin we released in July, 2020! She is a variation of the "Alligator Girl" special pin I created specifically for MegaCon 2017, but an albino palette (much like the beautiful white alligators occasionally found in nature). Albino Alligator Girl is the tenth PATREON EXCLUSIVE pin. This means you cannot buy her. She is given away free only to those in the Patreon Pin Collector tier of my Patreon here.
If you are in any way interested in collecting my pins, I really do recommend signing up. You can live anywhere in the world, it is $25/month and worth every penny. You get the free Patreon Exclusive pin (as of this writing, currently "Lemon Yellow Mask") as well as that month's "Pin of the Month" pin immediately mailed to you and of course the current Strangeling Lanyard, and then a new "Pin of the Month" each month automatically shipped along with additional Patreon Exclusive pins and lanyards throughout the year. We also giveaway various Event Exclusive pins (like those from MegaCon & DragonCon) to the Patreon Pin Collectors. You also get 10% off ALL pins, prints & canvases & more from Strangeling.com – so if you are even planning on buying a couple of things it is well worth signing up for (it even works on my expensive Masterpiece Editions). Again, this pin is not for sale to the public, she is a free gift to my Patreon Pin Collectors group. I just have her here at Strangeling.com as part of the pins archive and to let you all know about the Patreon Pin Collector tier!
Additional Details
EDITION: EXCLUSIVE
AVAILABILITY: PATREON EXCLUSIVE
RELEASE: July, 2020
Size: 1.5″ inches * 3.8 cm
Price: NOT FOR SALE