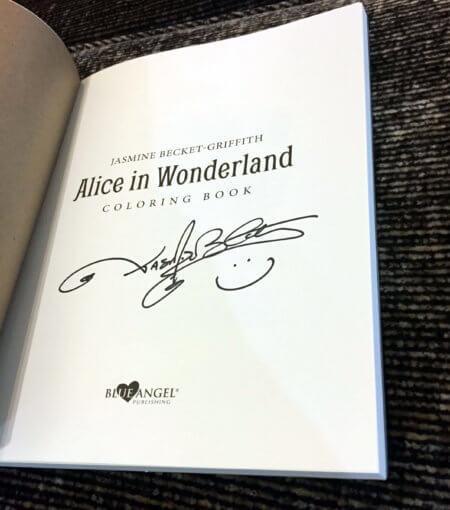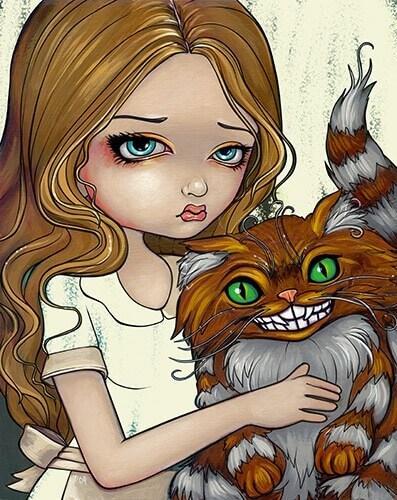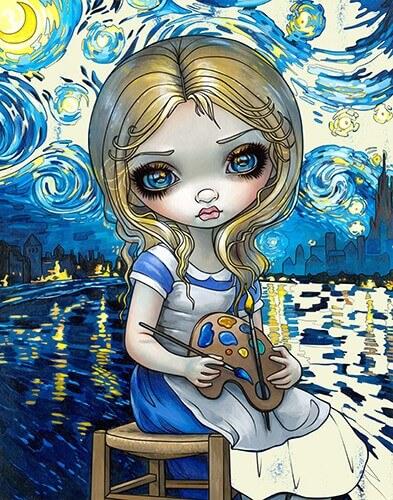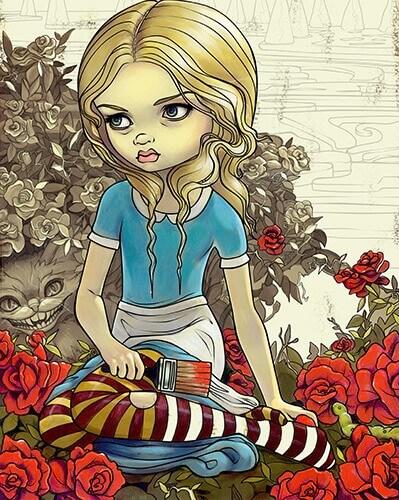 Alice in Wonderland Coloring Book (SIGNED)
$29.99
A phantasma of imagination and possibility on 104 pages of premium quality 150gsm paper.
Journey into lands, strange and familiar, as Jasmine Becket-Griffith joins Alice on her adventures down the rabbit hole in 55 scenes of big-eyed wonder. Bring your own color to the pool of tears, the Madhatter's infamous tea party, the frog footman and some looking-glass insects. Paint the roses red or invite the wrath of the Red Queen by making them blue, or yellow, or lilac, or every shade you like!
Alice also ventures beyond the looking glass and into art history where she tackles Bosch monsters, poses for Da Vinci, masquerades as a Bouguereau Princess and checks just how extremely late she is on a Dali clock. Wherever she goes, a little Wonderland goes with her and the Cheshire Cat is never far behind.
Aimed at 'grownups' but absolutely suitable for all ages, with detailed intricacies as well as broad patches and fun characters. Reference the colors in Jasmine's original paintings or branch out and follow your own palette in Wonderland! Bring these faithfully created line works to life — and who knows where you might end up! For the curiouser and curiouser, Jasmine has provided a description of each of the original artworks.
This coloring book is 104 pages, with a page size of 215 x 275 mm, printed on premium quality 150gsm paper (works great with all media I've tried, crayons, colored pencils, markers, gel pens, etc. – you can even use watercolors, etc.). These pages are one sided with only text on the backsides, so you never have to worry about losing any images if you cut out pages, or if you want to use markers you won't need to worry about bleed-through, etc.   Shipping weight is estimated at 1 lb & 10 oz and the book is about 8.5″x11″.  The pages are not perforated, but the book will open and lay flat easily (you can even also remove the dustjacket if you prefer, it has a sturdy plain board cover underneath the dustjacket), and the pages can be cut out pretty simply if you prefer putting your colouring pages on a clipboard, etc.
The copies I am selling here at Strangeling.com have first been shipped to my home so that I can autograph each one personally  (the additional stage of shipping multiple times so I can autograph them is why they cost a bit more on my website than on others).
Additional Details
THESE ARE SIGNED COPIES:  Signed inside the book, by artist Jasmine Becket-Griffith
Title:  Alice in Wonderland Coloring Book
Artist:  All art by Jasmine Becket-Griffith
Year: 2019
Publisher:  Blue Angel Publishing
Size:  8.5″ x 11″