Jasmine Becket-Griffith Coloring Book pre-order on Amazon
Jasmine Becket-Griffith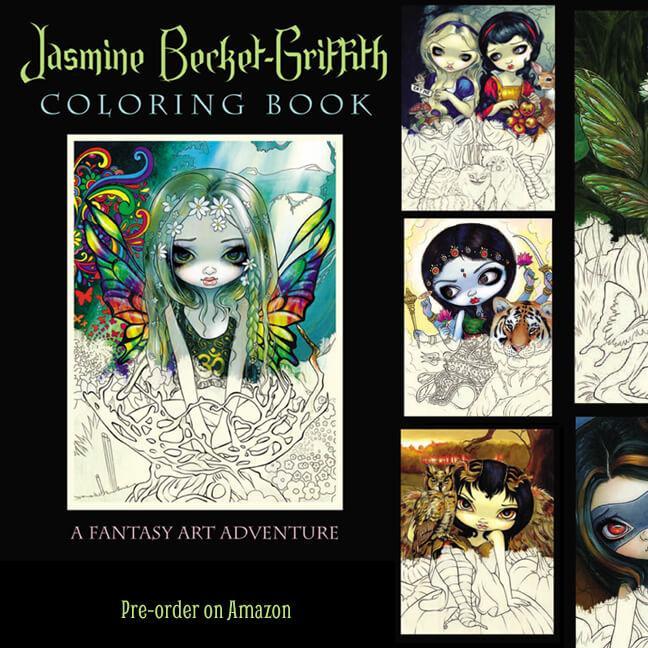 My Jasmine Becket-Griffith Coloring Book is now available to pre-order at Amazon for $19.99 – click here as well as MANY other purchasing options available, including international, pre-Christmas, etc. – all the details are in this caption below, please take the time to read through this, please, please:
Firstly yes, the US Amazon site now has it up for pre-order at the link above (or just go to Amazon and search "Jasmine Becket-Griffith Coloring Book" ). They will have the cheapest price and cheapest shipping options, 'cos they are Amazon. They say that they'll be getting their stock in February. As you know, with Amazon, the sooner you get your pre-order in, the more likely you'll be in the first batch they ship out, so go for it now if you can. If cost is your concern, Amazon will always be the cheapest. Live overseas? You can also place your pre-order directly through the Llewellyn distributors site here (price is listed in US dollars, but they will indeed ship worldwide and your credit card will convert into your local currency as per usual).
Want it sooner in time for Christmas? Want an autographed copy? Want worldwide options? Read on!
Some of us (well, just me and the Pop Gallery at Disney Springs) will be getting a limited number of ADVANCE COPIES. These will be coming at the end of November/early December. Theoretically this will be in time for Christmas/Holiday shipping. Here's how the Advance Copies will go down:
*Later this month I'll be giving away three copies for FREE as giveaways through Patreon (worldwide). These will be the very first copies I get myself, my personal copies, and I will autograph them. All you need to do for these is be sure to be a member of Patreon in the next week or two: http://www.patreon.com/jasminebecketgriffith
*Near the end of the month too I will be taking my remaining copies after the giveaway, autographing them, and putting them up for sale at Strangeling.com priced at $29.99+ shipping.. I will only have a few dozen copies at this time, they will probably go fast. These will be autographed, can be shipped worldwide, and will theoretically arrive in time for Christmas, etc. for gifts. I anticipate that these will sell out fast. I will post on Facebook when they pop up for sale.
*I am reserving a handful of my own advance copies to autograph and auction on eBay. These will be auctioned throughout the end of November/December. I will be putting them up as auction-formats (not buy-it-nows) so that if anybody happens to miss the initial launch at Strangeling.com (if it sells out quickly) or isn't able to get one from Pop Gallery, they will still have the option to place a bid and get theirs in time for the holidays.
*On December 12th I will be doing a special event at Pop Gallery Orlando at Disney Springs (Downtown Disney West Side) located at the Walt Disney World Resort here in Florida. It's a FREE event, everybody is welcome. In addition to debuting my new "Four Seasons" series of paintings, we will also be doing the official launch/release of the Jasmine Becket-Griffith Coloring Book. Pop Gallery will also be getting in on the Advance Copies of the book, which means that they'll have it long before Amazon, etc. You can totally come in person, buy the coloring book, have me autograph it, and that way you can have it in time for Christmas, etc. too. Details about the event are here – In addition, subject to availability, if you are not able to attend the event at Disney World, you can instead call Pop Gallery on the phone – 407-827-8200 – and reserve an autographed copy from the event. Pop Gallery can ship your book anywhere in the WORLD. So, if the Strangeling.com advance copies sell out quickly at the end of November, calling or coming to Pop Gallery will be your best option to get an autographed advance copy available worldwide.
After the February release, the Jasmine Becket-Griffith Coloring Book will be widely available. My friend Paul at StrangelingUK will have them at StrangelingUK.com and will have them for our UK events. I'll have them in stock permanently at Strangeling.com for worldwide shipping of autographed copies after the Februrary stock shipment, as will Pop Gallery here at Disney. I'll bring them to shows & festivals like DragonCon, the KC Renfest, any sort of events like that. They'll be in bookstores worldwide, on hundreds/thousands of online bookshops, gift stores, etc. It is going to be widely distributed. The details above are mostly just pertaining to the Advance Copies which will be coming out before the holidays, for those who want to be FIRST or who want to give them as gifts, etc.
The book is gorgeous, printed on high quality paper. The images are "one sided" meaning that you don't have to worry about ink or markers "bleeding through" onto the other side of the page. You can totally cut out the pages too that way without missing anything. There are 55 images in all, 95 pages, introduction from me, details about the paintings, etc. While aimed at grownups, all content is suitable for all ages. If you are a retailer and are interested in stocking the book, contact Blue Angel Publishing – blueangelonline.com and they can point you in the right direction.