FREE Strangeling 22nd Anniversary Pin with $25+ Purchase! Also – shipping alert!
Jasmine Becket-Griffith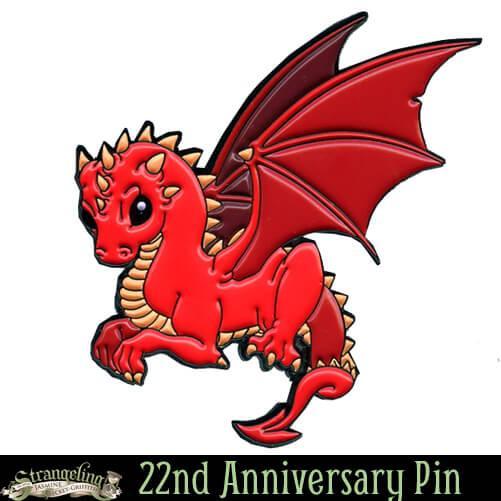 July marks the 22nd anniversary of Strangeling.com!  Crazy how time can pass!
As usual, we are celebrating the website anniversary with a special exclusive enamel pin giveaway – this year it is "Baby Red Dragon" – he turned out super cute!
EVERY order over $25+ during the month of July (while supplies last) here at Strangeling.com will receive a FREE "Baby Red Dragon" enamel pin.  He's not for sale anywhere, we are just handing him out as a free gift to customers in order to celebrate the website's 22nd anniversary.
Promotion starts at midnight July 1st (Sunday  night) Eastern Time and will run through the entire month of July or until we run out of pins!  Here are a few important things to note:
*Worldwide!  We are happy to ship worldwide, it does not matter where you live – we will ship to you =)
*The order threshold is $25 precisely, meaning that your shopping cart total worth of merchandise during checkout has to be $25.00 USD or over.  Please note that if you are using a coupon or discount, the total is AFTER the discount, (ie if you had a 10% coupon code, the $25 threshold point would have to be AFTER the discount is applied, so if you are very close to $25 you might want to save the discount for a future purchase and score the free pin instead 😉 )
*You do not need to do anything special while placing your order to get the pin – we will automatically pop the pin into your package when we are packing it up.  You don't need to click on anything special, you don't need to add the Baby Red Dragon pin to your cart, you don't need a special code or anything – we literally will be putting the Baby Red Dragon pin into each package in the $25+ queue by hand, so no worries!
*Similarly, since we pop the pins into your packages manually, the Baby Red Dragon pin will not appear in your shopping cart or on the order record – we just stick one into each box/bag/envelope when we are mailing them.  The pin will not trigger any kind of additional shipping costs or anything like that, it is a truly free gift.
*There is no limit on how many orders you can place, each order will receive a Baby Red Dragon pin!  If you would like to place several orders you will receive several pins (in case you'd like to have extras to trade, etc.)
*We hopefully have enough of the Baby Red Dragon pins to last the full month of July, but it is very difficult to gauge the inventory.  If somebody swoops in and places half a million orders, lol, we obviously would run out before the last day of July.  We are doing our best to stay on top of it though!  This being said, if your heart is set on acquiring the pin, we recommend placing your order sooner rather than later.  If we do run out, we will update on the website so everybody will know.
*As we need a physical package in which to ship the pins, lol, electronic/downloadable items like gift certificate emails, etc. are not included in this promotion.
*To see a close-up of the pin and more details about the little cutie and all the other Strangeling Pins you can visit the Collectible Enamel Pins section of our website here
*This promotion is only for Strangeling.com (as it is the anniversary of this specific website).  Promotion does not apply to third-party website (for example Amazon, eBay/Etsy, Disney, StrangelingUK, Hamilton Collection, etc. – Jasmine does not own these websites and they are not affiliated with this anniversary promotion) – only Strangeling.com
Another important note about shipping delays/timelines etc.:
July is a hectic month for us – we are traveling from Jasmine's Florida studio to her Kansas City studio for a big chunk of the summer, we are also attending our annual family camping reunion up in Illinois, visiting relatives in Missouri, traveling to Jasmine's London UK studio and then a short stop in Paris, France – all before heading out to Los Angeles for Jasmine's upcoming Disneyland autographing events.  This means that we will be on the road a great deal of the time in July.  We always do our best to process orders, make the prints, embellish the canvases, etc. and send order confirmations & tracking numbers as quickly as we can, but when we are driving/flying between multiple states and countries, camping, or in areas without secure internet access, this means there very well may be occasional delays of a couple days at times before we can process your order, and up to a week or two shipping delays on items that require Jasmine to hand-paint embellishments (such as for Masterpiece Editions, Limited Editions) or items handcrafted by Matt to order (such as Canvas Cuties).  July is also (due to the anniversary promo no doubt) a very busy month for us as far as sheer quantity of orders & correspondence.  We are a very small family company and being all related it means if there is a family reunion that ALL of our employees are also going to be there, lol, so if we're all literally camping in tents in the middle of nowhere that means that it could potentially be a few days before any of us can get to a computer.
If your order during July is at all time-sensitive (if it is for a birthday, holiday, if you need it by a certain date, please email us at [email protected] or contact us via the Contact form on our website BEFORE placing the order to make certain that we are in the country & able to ship by your required date.  
*The pin promotion is based on when your order is placed (ie, not when it is shipped) – for example if you place an order for a Masterpiece Edition on July 25th while Jasmine is in Paris and we have to wait until she is back to embellish & sign the canvas before it can be shipped in August, don't worry – you will still get the Baby Red Dragon anniversary pin.  Again – your free Baby Red Dragon pin gift will be clocked when your order is placed, not shipped, so as long as you get your order in while it's still July, you are all set!
Thank you all so much for your support over the past decades!
x
Jasmine, Matt & the team at Strangeling