New Works Solo Exhibition – Corey Helford Gallery
January 8 @ 12:00 pm

-

6:00 pm

PST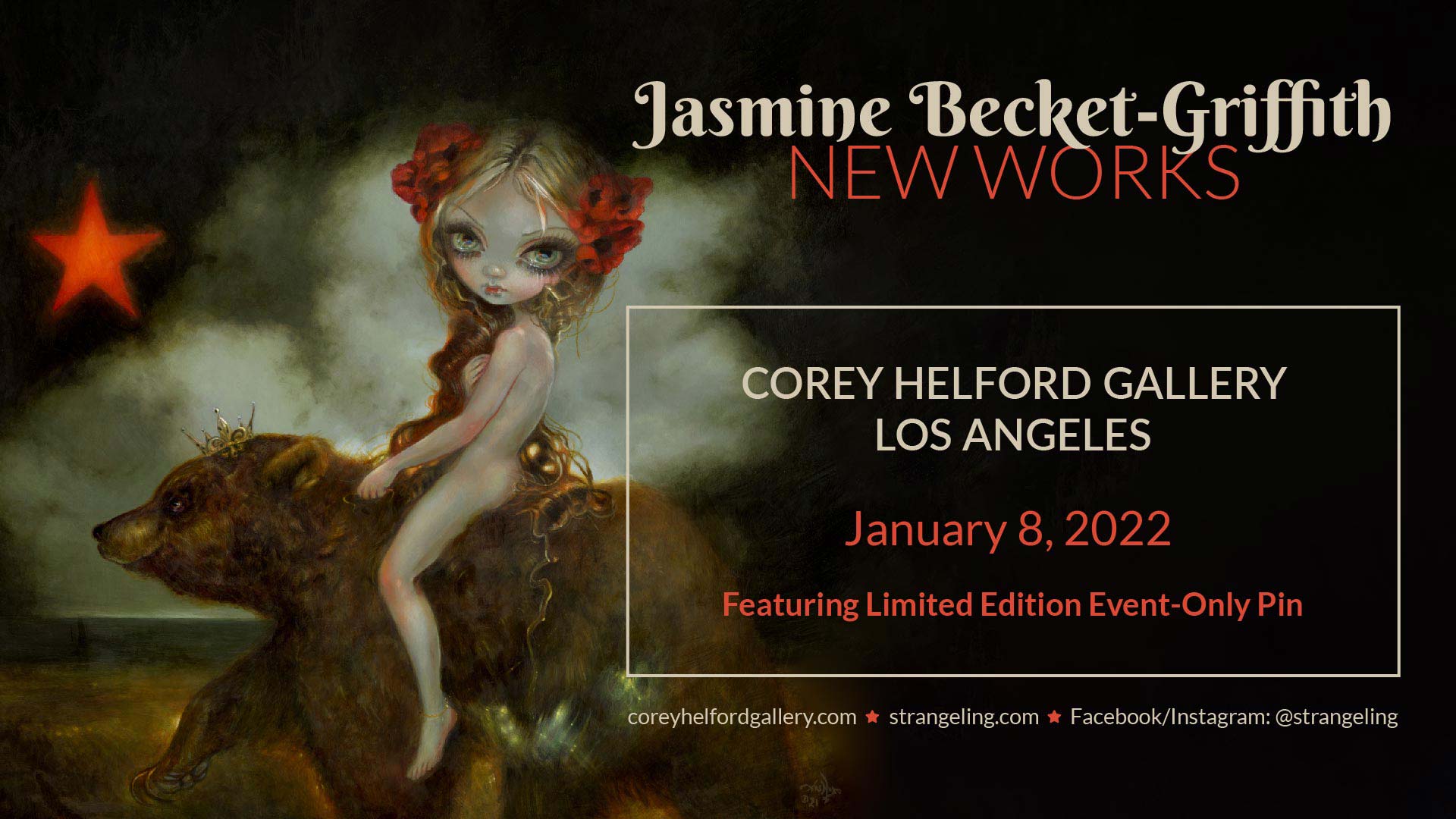 UPDATE 1/6/22: The Corey Helford Gallery in Los Angeles has announced they've moved the event to earlier in the day and the gallery will now open at NOON this Saturday, January 8th to the public. Please note that the gallery is closing at 6PM Saturday (according to the gallery this is to work in accordance with local city mandates / health & safety measures, contact CHG with questions), so this is a daytime event.
Everybody is invited, it's a free event.
PIN COLLECTORS: There will be 200 "California Godiva in Gold" pins as free gifts to attendees (no purchase necessary, no tickets needed, no strings attached, come say hi and check out the art). In addition, CHG has set aside a pin for each of the original paintings & original mini paintings/studies, so that each collector of an original piece will be certain to receive a "California Godiva in Gold" pin whether that collector attends in person OR if that collector reserves their original piece via email or telephone. So, ya get a pin if ya show up, or a pin if ya buy something and can't come.
I'll have many new original acrylic paintings on display as part of my "New Works" event and also even another new painting ("Great Red Dragonling") hanging in the "CHG Annual Art Collector Starter Kit" Group Show in the adjacent room in the same building along with many other artists' pieces so there will be a lot of beautiful brand new artwork to look at and even purchase 😉
The mini paintings some of you may have seen in my Patreon Lens posts in the beautiful "crown" frames will be priced at $695.
Thank you all and see ya Saturday – I'll be sure to post live on Patreon Lens, the free Patreon App – so those of you far away can still experience some of the fun virtually. This should be a spectacular event! I will be in Room Three (the same room I which had my "Allusions and Allegories" show).
Corey Helford Gallery is located at:
571 S Anderson St (Enter on Willow St)
Los Angeles, CA 90033
(310) 287-2340
Visit their website at:
https://coreyhelfordgallery.com
To contact the gallery (to receive updates and information about purchasing original works, etc. – they ship worldwide and send out a preview before the show) email
[email protected]
My Patreon supporters will of course get additional sneak previews and advance works-in-progress. I definitely recommend signing up there if you are a serious collector or want to join in the fun as I prepare for this big event!
NOTE: Gallery policies always apply, please stay tuned in case of any additional COVID-related restrictions. The gallery is happy to ship worldwide and can often work with payment installment plans.