New Works Solo Exhibition – Corey Helford Gallery
01/08/2022 @ 7:00 pm

-

10:00 pm

PST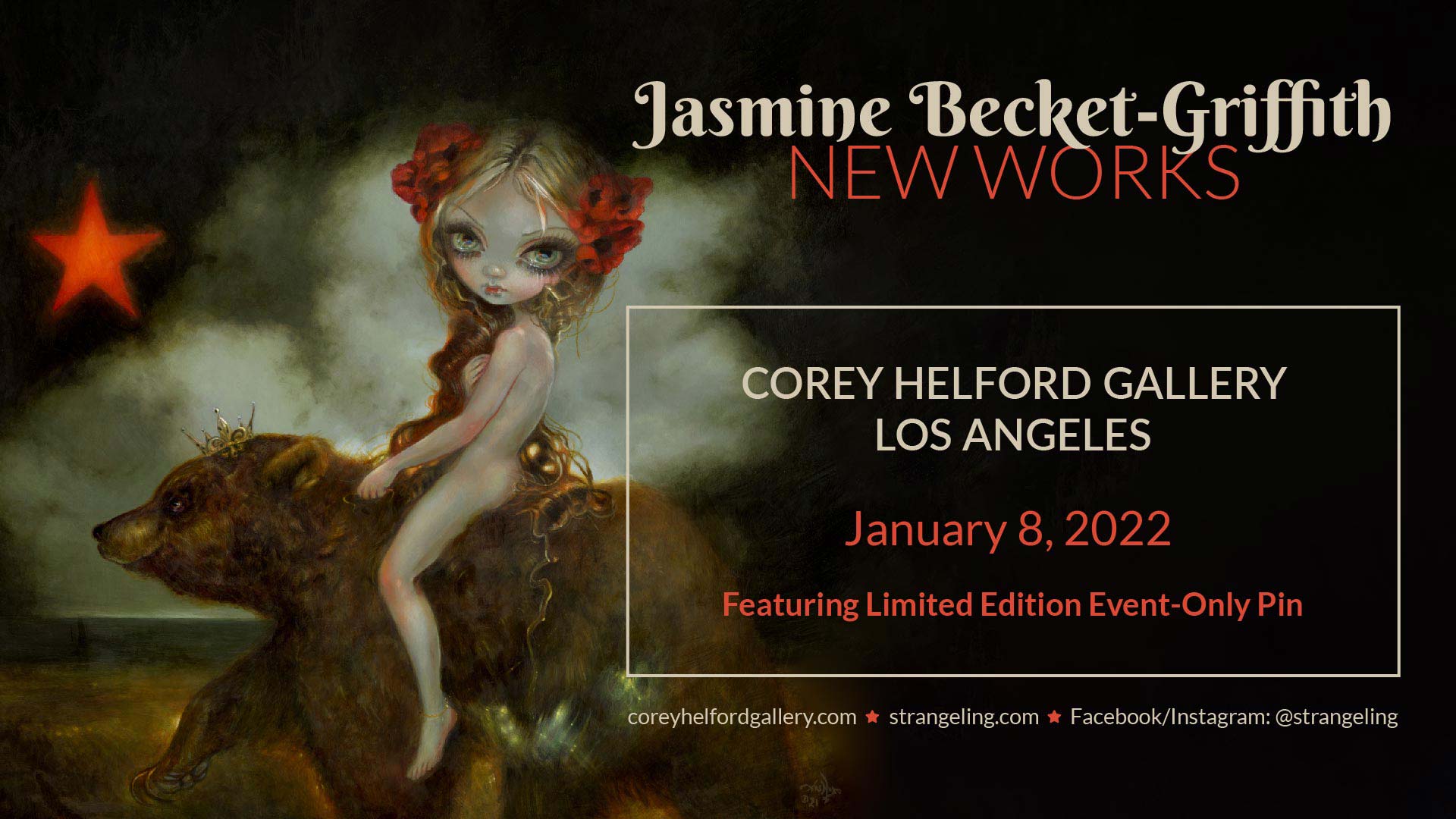 My first post-pandemic solo show "New Works" will open at COREY HELFORD GALLERY in Los Angeles on January 8th, 2022. I will be in attendance in person for the opening (7-10pm), and the show will hang for approximately one month!
Featuring several new original acrylic paintings I have created for this event over the past couple years, a slew of miniature paintings and studies, and "California Godiva in Gold" – a free Limited Edition Strangeling Pin Exclusive to attendees, this should be a spectacular event! I will be in Room Three (the same room I which had my "Allusions and Allegories" show). EVERYONE IS WELCOME!
Corey Helford Gallery is located at:
571 S Anderson St (Enter on Willow St)
Los Angeles, CA 90033
(310) 287-2340
Visit their website at:
https://coreyhelfordgallery.com
To contact the gallery (to receive updates and information about purchasing original works, etc. – they ship worldwide and send out a preview before the show) email
[email protected]
My Patreon supporters will of course get additional sneak previews and advance works-in-progress. I definitely recommend signing up there if you are a serious collector or want to join in the fun as I prepare for this big event!
PIN COLLECTORS: The Event Exclusive "California Godiva in Gold" pin is a special pin I have made just for the event! Inspired by the State Flag of California, featuring my "California Godiva" cast in golden metal with hand selected enamels. See sample image below:
The Gallery will have the pin as a free giveaway to attendees of the event in person (it's a FREE event, you might want to come early, I believe 100 free pins will be handed out). In addition, CHG has set aside a pin for each of the original paintings & original mini paintings/studies, so that each collector of an original piece will be certain to receive a "California Godiva in Gold" pin whether that collector attends in person OR if that collector reserves their original piece via email or telephone. So, ya get a pin if ya show up, or a pin if ya buy something and can't come. Gallery policies always apply, please stay tuned in case of any lingering COVID restrictions, the gallery is happy to ship worldwide and can often work with payment installment plans.
Related Events