MegaCon featuring Jasmine Becket-Griffith in Orlando, Florida
05/24/2018 @ 2:00 pm

-

05/27/2018 @ 5:00 pm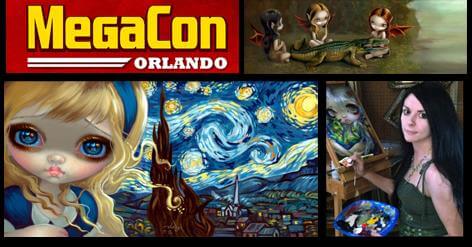 Jasmine will be returning in person to MegaCon in 2018, with a special 30 foot triple-sized booth this year! May 24, 25, 26 & 27 at the Orange County Convention Center in Orlando, Florida – we'll have TONS of artwork & merchandise & of course some MegaCon Exclusive pins & other goodies, stay tuned for specific times & booth number. Matt, Chris & Amber will also be helping run the booth this year and it will be open all four days the WHOLE time. Jasmine will also be there each day in person for certain for the following times (and may also be there for additional times, schedule permitting, but these times for SURE):
Jasmine Autographing Hours:
Thursday: 2pm-6pm
Friday: 1pm-4pm
Saturday: 1pm-4pm
Sunday: 10am – 1pm
Gallery/MegaCon Opening Hours:
Thursday, May 24, 2018 4:00*PM-9:00PM
(*some tickets include a 2:00PM opening "Preview" Thursday, details at MegaConOrlando.com)
Friday, May 25, 2018 10:00AM-7:00PM
Saturday, May 26, 2018 10:00AM-7:00PM
Sunday, May 27, 2018 10:00AM-5:00PM
Stay tuned for additional details about the MegaCon Exclusives & Pin Giveaways, info will be added here when it is available.
MegaCon is a huge "mega convention" – anime, sci-fi, fantasy, comics, gaming and more. It is at the Orange County Convention Center (fabulous location – by Disney, Universal, etc. if you want to make a weekend of it). Jasmine is am NOT in the "artist alley" – she is an Exhibitor in the large part of the room and will have TONS of artwork, merchandise, collectible enamel pins (including the new MegaCon Exlusives, original paintings, books, oracle cards, open edition canvases, mini prints, Canvas Cuties, coloring books, paper prints, tarot cards, jewelry, figurines & more.
Again, Matt, Chris and Amber will be running the booth and Jasmine will be in attendance in person each day for specific scheduled times for autographing – times posted above. Her artwork will be available for purchase all day for all four days of the event.
When: May 24, 25, 26, & 27
Location: Orange County Convention Center
9800 International Drive, Orlando, FL 32819
Official website: http://www.megaconorlando.com/
We will happily accept Visa, Mastercard, American Express, Discover, and of course cash.