Jasmine Becket-Griffith Takeover at Disney's WonderGround Gallery
10/27/2017 @ 1:00 pm

-

10/29/2017 @ 9:00 pm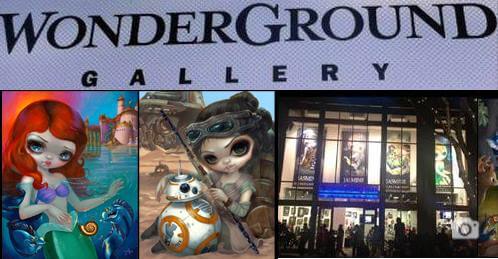 Once again I'm TAKING OVER Disneyland's WonderGround Gallery! For 3 days at least 😉 I'm splitting it this time with Disney artist Joey Chou! The whole entire gallery shall be mine (and Joey's!) more details below, and others to follow:
I'm very excited to announce that I will be making another appearance at WonderGround Gallery – October 27, 28 & 29th every day – I will be there from around 1pm-9pm (yet to be determined) – I have been contracted to create some MORE Disney ® licensed paintings, and will also have my personal works as well – the entire gallery for these three days will be nothing but ME!
I will be painting live, too!
One of my biggest Disneyland events yet, if you are in California or will be visiting Disneyland, be sure to mark your calendars now!
In addition to the new Disney pieces, my non-Disney art, etc. – I'll have other Disney art of mine there too – to see my existing Disney pieces (and to place orders by telephone or email) – details are here:
http://www.strangeling.com/product-category/fine-art-prints/fine-art-prints-wonderground-gallery-exclusives/
So – mark your calendar for October 27, 28 & 29th at WonderGround Gallery in the Downtown Disney® District at the Disneyland® Resort in Anaheim, CA – as it is in the Downtown Disney® District – no themepark admission is required. And again – even if you can't make it that weekend, my artwork is there all day 365 days a year.
Live in Florida? Come & see my work at "our" Downtown Disney – Disney Springs too – at Pop Gallery Orlando next to the AMC theatres at Downtown Disney / Disney Springs West SIde, and also some specially featured Disney pieces at the Marketplace Co-Op at Downtown Disney Marketplace in Florida.
For navigation devices, use the address:
Disneyland Resort
1313 Disneyland Dr
Anaheim, CA 92802
More details to follow!