Jasmine Becket-Griffith LIVE at the Kansas City Renaissance Festival
09/21/2019 @ 10:00 am

-

7:00 pm

EDT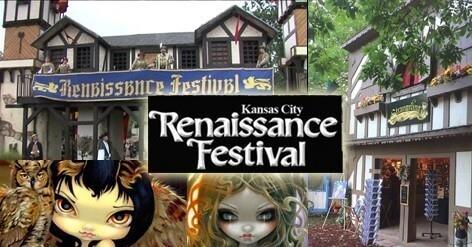 WEEKENDS August 31 – October 14 + Labor Day & Columbus Day! **NOTE: While Jasmine's building, gallery & artwork will be there for purchase & on display the entire length of the festival, Jasmine will only attend in person for certain during scheduled hours on September 21, September 22, September 28 and September 29 (details below). The KC RenFest Exclusive Pin "Owlyn in Autumn" will be available for purchase every day for the full length of the festival (while supplies last)! Other new details to note are below, please continue reading =)
Yes, Jasmine returns this year to her now-permanent gallery at the KC Renfest and it will be the home for her artwork throughout the festival this year, and for years to come! Same spot as always, located in the two-story half-timbered not far from the Joust – and run by her sister Amber & brother-in-law Chris and their family, the Jasmine Becket-Griffith Art gallery returns this autumn.
The Jasmine Becket-Griffith RenFest Gallery will be open every weekend from August 31 – October 14th as well as on Labor Day and Columbus Day. Prints of all kinds and in all price ranges, open editions, collectible enamel pins, matted prints, merchandise, books, oracle decks, canvas prints, framed prints, mini prints of Jasmine's artwork will be available as well as the occasional original painting and other special Jasmine artworks & handcrafted Jasmine art merchandise especially for the festival. Want to request a specific print or open edition canvas to pick up when you arrive? Email Amber at [email protected] and let us know!
This year there is a new Strangeling pin that is Exclusive to the Kansas City Renaissance Festival! "Owlyn in Autumn" will be available solely to festival attendees in person, and will be for sale inside our usual "Strangeling: The Art of Jasmine Becket-Griffith" gallery building. There is a limit of 5 pins per person, per day. This pin will not be available online, it is specifically for folks attending the festival in person, and should be in stock throughout the season.
This year we will have Jasmine in residence for specific scheduled times on select dates – some of the scheduled times will be for autographing (Jasmine is happy to autograph anything you either bring from home OR buy at the show), and this year we are also going to have scheduled times (weather permitting) when Jasmine will be PAINTING live at her easel in front of the gallery building. During the scheduled painting times, you are welcome to watch Jasmine, chat/ask questions, take photos, etc. but please do not request autographs during the scheduled painting demonstrations (it is too messy and difficult for Jasmine to be interrupted and can end up with paint and fingerprints all over your fancy prints and clothing, lol).
September 21 Noon – 2PM (Autographing)
September 21 3PM-5PM (Painting)
September 21 6PM-7PM (Autographing)
September 22 Noon – 2PM (Autographing)
September 22 3PM-5PM (Painting)
September 22 6PM-7PM (Autographing)
September 28 Noon – 2PM (Autographing)
September 28 3PM-5PM (Painting)
September 28 6PM-7PM (Autographing)
September 29 Noon – 2PM (Autographing)
September 29 3PM-5PM (Painting)
September 29 6PM-7PM (Autographing)
In its 43rd year, the KC Renaissance Festival is one of the premier festivals in the country. Unlimited entertainment, music, performers, over 100 artisans, terrific food (even great vegetarian food too!), tons of beer, wine & mead, bring your dogs, your pets, your kids – dress up and have fun! For details about the festival visit:
and on Facebook:
http://www.facebook.com/KansasCityRenFest
The KC Renfest is located at:
633 North 130th St Bonner Springs, KS 66012