Jasmine Becket-Griffith at Planet ComiCon / Spectrum LIVE in KC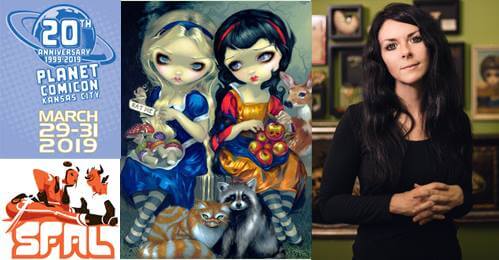 I will be in Kansas City March 29-31 at Planet ComiCon + Spectrum Fantastic Art Live at Bartle Hall at booth #1213! Yes it is true – Spectrum has COMBINED forces with Planet ComiCon to create a marvelous meeting of pop culture/scifi/comics/anime convention with the world's best showcase of fantastic art (and the artists who make it!).
We will be at booth #1213, kind of in the middle, see the floorplan in the comments!
The Event Exclusive Pin is "At the Easel" – they will be handed out free with any JBG purchase, one per person with purchase. We have 200 to hand out, and will divide them up approximately 65 pins per day, first come first serve, starting when the convention opens each day. They will be handed out by Amber/Chris at our booth (not by Jasmine, she will be autographing during the hours below). The booth will be open all day every day of the convention, and Jasmine will be there IN PERSON for specifically scheduled times at the booth as follows:
Friday: 1pm-4pm
Saturday: 1pm-4pm
Sunday: 1pm-4pm
You can purchase items ahead of time and bring them during Jasmine's scheduled times for autographing, or you can bring stuff from home, etc. too. Jasmine is happy to autograph anything.
Again – the "At the Easel" pins are handed out at our booth (#1213) as soon as the convention doors open each day, approximately 65 pins per day. One per person with purchase. Pins cannot be reserved and are for attendees in person only.
Jasmine, Matt, Amber & Chris will all be wearing Strangeling Pin Trading Lanyards too, and will trade any Strangeling Pin for any Strangeling Pin.
Details & tickets for Planet ComiCon can be found here:
Details about the Spectrum Fantastic Art Live conjunction with Planet ComiCon can be found here:
https://spectrumfantasticart.com/blog/2018/07/31/sfal-and-planet-comicon-kansas-city-announce-an-exciting-new-collaboration/
Planet Comicon Kansas City 2019 will be held on March 29 -31 at Bartle Hall, 301 West 13th St, Kansas City, MO 64105