Jasmine Becket-Griffith at Disneyland's WonderGround Gallery
03/08/2019 @ 6:00 pm

-

03/09/2019 @ 12:00 pm

EST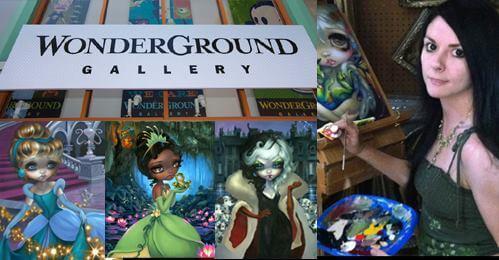 I'm coming back to California! NOTE: The time schedule is still not set in stone, but it will be the during the evening Friday and during the day/afternoon on Saturday. I'll update here when the time has officially been set, just wanted to give you the head's up early as I could =)
I'll be doing two signing events with my NEW Disney artworks ("Cruella," "Princess Tiana," & "Cinderella Leaving the Ball") in Anaheim at Disneyland's WonderGround Gallery at Downtown Disney! Friday evening (March 8) and Saturday afternoon (March 9).
This is a free event, no tickets/admission needed to access the gallery. All ages welcome! Downtown Disney® District is located at the Disneyland® Resort in Anaheim, California. WonderGround Gallery always has an assortment of my licensed Disney artwork, so – even if you can't make it that weekend, my artwork is there all day 365 days a year.
Live in Florida by the other Disney? Come & see my work too – at Pop Gallery Orlando next to the AMC theatres at Disney Springs West SIde, and also some specially featured Disney pieces at the Marketplace Co-Op inside the WonderGround Gallery section at Disney Springs Marketplace in Florida. I'm also at Epcot this year for the International Festival of the Arts. I do a lot of events in the Walt Disney World area throughout the year.
For navigation devices, use the address:
Disneyland Resort
1313 Disneyland Dr
Anaheim, CA 92802
Related Events